McDonald's has not always been seen as an environmental pioneer. Quite the opposite, in fact. But in the UK at least, that's starting to change, as the fast food chain looks to drive forward regenerative agriculture techniques in the beef industry.
McDonald's is trialling multi-paddock grazing, a technique that looks to mimic nature and the role ruminants play in healthy ecosystems. Its principles include no bare soil, improving root depth by letting grass grow long, and optimising the cattle's impact with intensive grazing and long rest periods.
The project aims to show how farms can be adapted to draw down more carbon than they emit, while restoring soil quality and boosting biodiversity.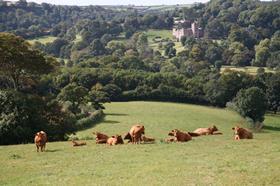 McDonald's plans to use the project to develop a learning platform for UK and Irish beef producers making the transition on their own farms, and has teamed up with agricultural consultancy FAI Farms to drive the project.
The scope for scaling regenerative agriculture across entire supply chains and methods for transitioning large farms in the UK's temperate climate is relatively unexplored.
FAI and McDonald's plan to review the ethical, environmental and economic impact of this approach on FAI's own farm.
Harriet Wilson, agriculture sourcing manager at McDonald's UK, says grazing systems provide an opportunity to futureproof the beef industry and drive more resilient production.
"This programme will create a roadmap to ensure our future beef supply contributes to a sustainable food system where people, local communities, animals and the planet can thrive," she says.
The project has won numerous plaudits. McDonald's UK and FAI won Compassion in World Farming's Sustainable Food and Farming Award for 2021, an award that celebrates businesses taking steps to produce meat, dairy and eggs sustainably.
Clare Hill, regenerative farming director at FAI Farms, says regenerative agriculture represents a path towards a new climate future.
"We look for root causes to problems, rather than treating symptoms – like thistle or dock plants," she says. "We are growing more grass and keeping our soil covered, helping with flood and drought resilience, and our daily liveweight gains are better than our previous set stocked system."
What big suppliers and retailers are doing
Waitrose
Waitrose's strategy aims to improve soil and the natural world through restorative land management. It focuses on topsoil regeneration, the water cycle, and increasing carbon capture, biodiversity and resilience to climate change.
In October 2020, it committed to make GHG emissions from its UK farms net zero by 2035.
M&S
M&S has initiated a five year 'Farming with Nature' collaborative programme to support its Select Farmers to become more resilient to the biggest environmental challenges they face – spanning climate change, biodiversity, soil health and water usage.
As part of this, M&S is introducing 30 million bees to 28 UK Select Farm sites across the country.
Morrisons
Morrisons has begun working with a group of farmers to develop net-zero models. This includes switching to renewable energy, reducing water and fertiliser use, and regen ag practices.
Morrisons aims to be the first UK supermarket to use only net-zero certified farms when sourcing from British suppliers.
PepsiCo
In April, PepsiCo launched its Positive Agriculture initiative, aimed at spreading regenerative farming practices across seven million acres — roughly equal to its entire agricultural footprint.
The food giant estimates that this will eliminate at least three million tonnes of greenhouse gas emissions by the end of the decade.
Nestlé
Nestlé is working with over 500,000 farmers and 150,000 suppliers to help them implement regenerative agriculture practices. These typically involve improving soil health and maintaining and restoring diverse ecosystems. In return, Nestlé rewards farmers by purchasing their goods at a premium, buying bigger quantities, and co-investing.
Regenerative agriculture: why PepsiCo, McDonald's and Waitrose are jumping on regen ag
1

2

Currently reading

How McDonald's became an unlikely environmental farming pioneer