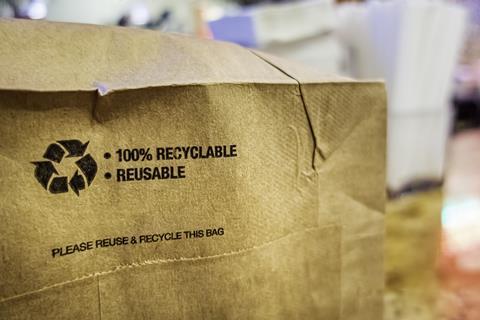 The concept of the last mile is gaining increasing attention. And sustainability is becoming an ever more important consideration in this final touchpoint with the shopper.
Research shows there is a broad desire among customers to see brands adopt more sustainable business practices – 64% of consumers want brands to do more to reduce materials and incorporate sustainable materials. Evidently, there is a large gap between shopper expectations of how products should be delivered compared with the service brands are actually providing.
There are solutions that can benefit both the business and the customer. Companies can reduce their carbon emissions and costs – to avoid rapidly rising operating and fuel prices – by introducing EVs and a sustainable delivery fleet. For instance, Waitrose has recently started trialling all-electric vans for home delivery and aims for all of its light commercial vehicles to be electric by 2030.
On packaging, customers expect innovative solutions that use less waste. As many as 70% of shoppers say they're willing to pay more for sustainable packaging.
The likes of Coca-Cola have recognised this. Beyond the rollout of its cross-brand Universal Bottle concept throughout LATAM, the Coca-cola company continues to innovate – last year collaborating with Carrefour to pilot circular shopping system Loop in France. Consumers can order a variety of products, including Coca‑Cola beverages, delivered to their home in customised packaging that is collected, cleaned, refilled, and reused or recycled. The brand recognised packaging can often be an afterthought but has a huge impact on the environment, and consumer perceptions.
Customers notice when a brand makes those small yet important changes. Whether it is reducing waste or introducing recyclable packaging, what feels like a relatively minor move can have significant impact.
Sustainable delivery and packaging now has to be considered as part of a holistic approach to the entire customer journey, with delivery the final piece of the puzzle. So even these last-mile touchpoints have to not only meet customer expectations, but go above and beyond to create a lasting impression. Regardless of a brand's efforts earlier in the customer journey, if it fails at this final stage, that is the brand experience that will linger in customers' minds.
The last mile must now be prioritised through a sustainable lens to meet the increasing demands of shoppers fed up with waste and inaction. Brands can start by thinking about the incremental gains rather than the big 'show-off' moments, to move in the right direction and begin to make a lasting change that stays with the customer.