Retailers can be in no doubt that plastic is now a 'critical' issue for shoppers, after an explosive new poll found almost a quarter are 'extremely' concerned about plastic packaging.

In a survey of more than 5,000 UK consumers by Kantar Worldpanel, 24.6% expressed 'extreme concern' about plastic packaging in grocery, while 42% believed food and drink manufacturers should make it their priority to make all their packaging recyclable.
Twenty-one percent said industry should go even further and opt for entirely plastic-free packaging, while 19% want only recycled materials to be used for food and drink.

At the same time, shoppers claimed they were doing their bit to tackle plastic waste, with more than half (59%) saying they were doing more to reduce the amount of plastic waste generated by their household compared with last year.

Even so, the findings revealed the onus would still be on retailers and manufacturers to find a solution, rather than changed shopper habits.

While 80% of respondents claimed to use bags for life, less than a third avoided disposable plastic straws or cutlery (31.5%) or excessive plastic packaging (29.2%), and only 30.8% used reusable coffee cups. "Consumers have got used to the convenience of modern packaging and would be very reluctant to make their lives either out and about or back in the kitchen more difficult," said Fraser McKevitt, head of retail & consumer insight at Kantar Worldpanel. "They want the work to be done for them."

Wrap director Peter Maddox said it was "interesting" to note the support for "redesigning plastic packaging rather than eliminating it completely".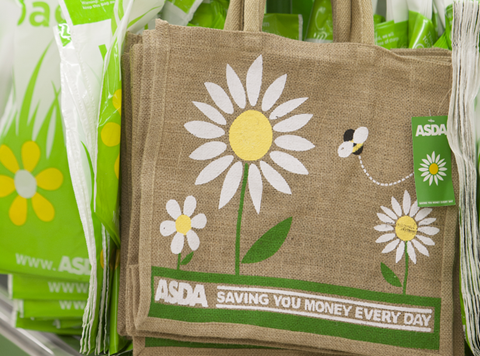 Do you do any of the following to reduce plastic waste?
Use a bag for life: 83.3%
Use a re-usable coffee cup: 30.8%
Avoid disposable plastic: 31.5%
Get your milk delivered: 5.1%
Kantar Worldpanel
"Wrap's view is that any solution needs to be holistic and system-wide and ensures that we retain the benefits that plastic was designed to achieve in the first place, whilst reducing the untenable damage plastic waste does to the environment," he added. "Plastic plays a vital role in preserving and protecting food and helping citizens get the best out of what they buy and is inextricable in the fight against food waste.

"Through our ambitious new plastics initiative, to be launched in the spring with the Ellen MacArthur Foundation, part of the focus will be to bring about the elimination of unnecessary and problematic single-use plastic packaging, and making sure all plastic packaging is reusable, recyclable or compostable."

According to Greenpeace, UK supermarkets are generating one million tonnes of plastic annually, which contributes to the estimated 12.7 million tonnes of plastic in our oceans. each year.
"Since Blue Planet exposed the impact plastic is having in our oceans the shift in attitudes has been dramatic and incredibly widespread, with the government, the media, supermarkets, cafes, schools, celebrities and even the Queen vowing to clamp down on plastic waste," said Greenpeace UK senior oceans campaigner Louise Edge.

"So companies need to dramatically cut the amount of plastic packaging they use, as well as ensuring that any plastic they do use is both recyclable and made from recycled content. These measures work together, and none of them, apart from producing less plastic, is useful on its own."

Last month, Iceland pledged to ditch all plastic packaging from its own-branded products by 2023 and called on other retailers to follow suit.

Waitrose, which has launched biodegradable cotton buds and trialled a non-plastic punnet for tomatoes, plans to make all plastic packaging recyclable or compostable by 2025, while Sainsbury's has committed to halving its own-brand packaging by 2020 compared with 2005.