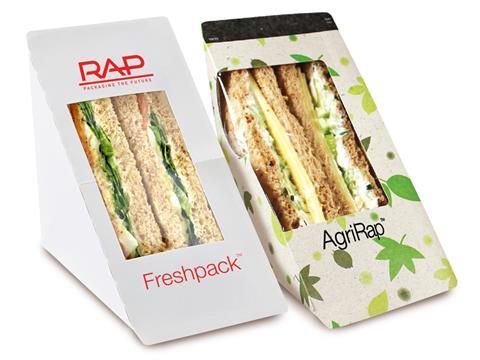 Sandwich packaging supplier RAP is claiming a UK food-to-go first with its plastic-free pack made from agricultural waste.

The new AgriRap wedge is made from stems and leaves left after the harvesting of crops including wheat, rice, corn and sugar cane. Unlike many standard wedges, its lining is a compostable wood-based cellulose, not plastic.

Just 20% of agricultural plants were used for food, leaving 80% available to be converted into paperboard, said RAP, which buys its plant fibre from mills overseas. Agri-waste was usually burned, but recycling gave it "a second life".

The result of almost 18 months' development and "considerable investment", AgriRap would biodegrade fully within three to six months in industrial composting and within a year in domestic composting, the company said.
AgriRap was a "significant breakthrough" for the sandwich packaging sector, added RAP CEO Graham Williams. It was easily scalable, meaning it could in the future be in the likes of Pret a Manger, which RAP has supplied with carton wedges since 1999.

The business, which has also overhauled its Freshpack wedge to be 85% plastic free, is currently in talks with retailers and suppliers but doesn't expect its new eco-pack to be adopted immediately. Customers would first need to "get their heads around" the new technology, Williams said.

While he would not be drawn on details, he said AgriRap would command a premium, reflecting the "more expensive material".