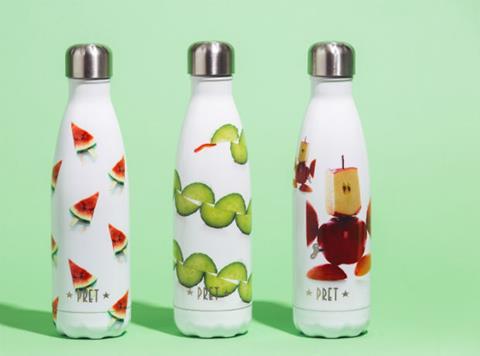 Pret is launching a new reusable bottle in partnership with startup Chilly's Bottles to help customers slash plastic waste.

Featuring three different designs exclusive to Pret, the 500ml bottles keep drinks cold for 24 hours and hot for 12 hours.

Costing £20, the new reusable bottles will be available to buy from 14 shops across London, Brighton and Manchester ahead of a wider rollout later this year.

Three designs on offer feature an apple robot, cucumber snake or watermelon lollies.

The bottles are also free of the industrial chemical BPA, often used to make reusable plastic products, which has been linked to health risks.

Customers can refill their reusable bottles for free at Pret's filtered water stations, available in 66 of its shops across the country.

"Plastic bottles are a problem. We all feel it even before we hear the shocking statistics about millions of tonnes of plastic ending up in our oceans each year," said Pret CEO Clive Schlee.

"I'm thrilled that we've partnered with Chilly's to create a range of reusable bottles and I hope our customers love the designs as much as we do."

Chilly's co-founders James Butterfield and Tim Bouscarle added: "We're on a mission to accelerate the adoption and everyday use of reusable products. We aim to do this through creating high performing bottles that can be used everywhere, helping customers reduce their reliance on single-use plastics."

The launch coincides with Pret's three-store trial of a bottle deposit return scheme in Brighton, which kicked off yesterday and will run for two months.

The coffee chain is charging 10p per plastic bottle and refunding the fee when customers return them to a member of the Pret team. It led to 15% of Pret's plastic bottles being returned on the first day of the trial.