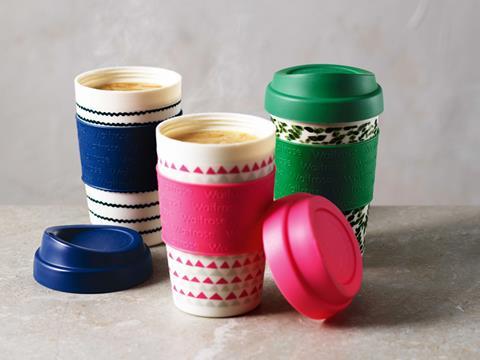 Waitrose has announced it will be phasing out complimentary tea and coffee for loyalty scheme members in its cafés from 23 May, and removing disposable coffee cups from all its 353 stores by the autumn.
MyWaitrose members will still be able to redeem their free hot drink at one of Waitrose's self-service machines using their own cup.
Waitrose said it hoped the changes would avoid increased pressure on its hospitality areas, when customers do not have their own reusable cup. It is hoping to encourage shoppers to bring their own reusable cups to its stores, and help cut down on the more than 52 million takeaway cups used in the UK each year.
The retailer also announced those who purchase a tea or coffee after the rollout would be offered a choice of free or "generously discounted" food options when they show their myWaitrose card. These options will vary on a monthly basis, but for the first month, members will be able to choose from either soup, muesli, an almond croissant or a loaf cake slice with their beverage.
Waitrose is beginning the process by removing disposable cups from nine branches from 30 April to help it understand how best to manage the changeover before rolling it out across all stores in a phased programme by the autumn. These stores include those in Banbury, Ipswich, Norwich and Upminster.
The removal of disposable coffee cups is part of Waitrose's continued initiatives to become more environmentally-friendly. For instance, it has pledged to not sell any own label food in black plastic beyond 2019, committed to make all own-label packaging widely recyclable, reusable, or home compostable by 2025, and will stop stocking plastic straws in its cafés and replace them with paper versions by end of the month.
"We realise this is a major change, but we believe removing all takeaway disposable cups is the right thing to do for our business and are confident the majority of customers will support the environmental benefits," said Tor Harris, head of sustainability and responsible sourcing at Waitrose. "It underlines our commitment to plastic and packaging reduction and our aim is to deliver this as quickly as possible."
Sian Sutherland, co-founder of A Plastic Planet, said Waitrose should be applauded for its "bold step," and encouraged supermarkets to introduce plastic-free aisles urgently to "stem the tide" of plastic. "The time for radical action on the part of Britain's biggest retailers is long overdue. Initiatives like the one Waitrose announced today are hugely positive developments, but plastic pollution will continue to be a scourge on the environment unless we call a halt to all plastic in grocery retail," she added.
This article was amended on 10 April to clarify that free tea and coffee aren't being phased out completely - just from the in-store cafés.