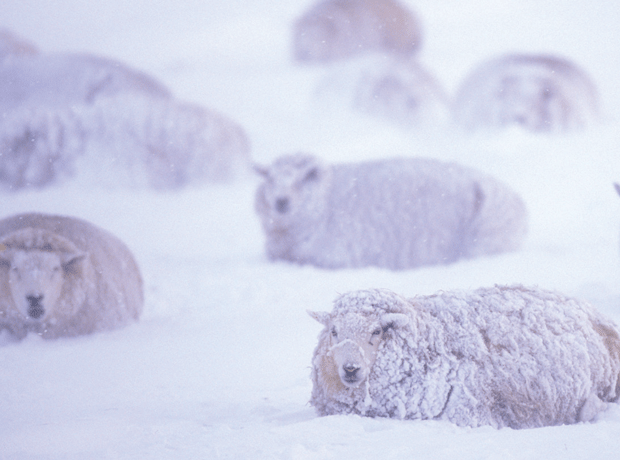 As I write, I am looking out at an idyllic snow-covered landscape in the Pennines.
Last night the roads home were OK, but things deteriorated as I came up "our" hill, and when I pulled in to our house the four-wheel drive immediately got stuck in six inches of the white stuff - necessitating an hour of digging in order to clear a way into the garage.
Overnight was cold but very peaceful - after I arrived very ­little traffic went up or down, and what is normally a busy country road became eerily quiet.
It was not difficult to make a decision to spend a Friday working from home rather than venturing out.
"Small businesses at their best are unique in their commitment"
When I got up and went out to walk the dog at 6.30am, I was aware of just one moving vehicle at the bottom of the hill, and was intrigued as to who was out and about.
When it reached my gate, I was amazed to see my newsagent in his two-wheel drive van at the gate at his normal time with my newspapers.
Looking more closely, it was also apparent that one other ­vehicle had been up that morning because our milk had been ­delivered earlier still - the milkman has a two-wheel drive pickup.
After that it was lunchtime before we saw any further traffic, and then it was only 4x4s.
The point I want to make is not only about the driving skills of the two individuals concerned - impressive though they were - but that these are two specialist independent retailers who could easily have been excused for not delivering that day.
They had, however, epitomised for me the dedication of such retailers to their customers and the sheer determination to deliver (in every sense) on behalf of their business.
Many employees in larger businesses work hard in such circumstances, but I believe that truly small businesses at their best are unique in their commitment and passion.
No one else is going to do what they do, particularly for the ­modest rewards they receive compared with some of the ­telephone numbers we see for salaries at some big businesses.
These small business owners have to rely on their own resources - for sales, book-keeping, cleaning, HR, compliance with regulation and food safety, payroll licensing matters, and many others besides.
To that list can now be added Arctic driving skills - something that a risk assessment may well have prevented in other business circumstances.
Of course I pay a small premium for both deliveries, but what price service of that level?
I certainly value the service I receive more than ever.
Steve Parfett is chairman of AG Parfett & Sons