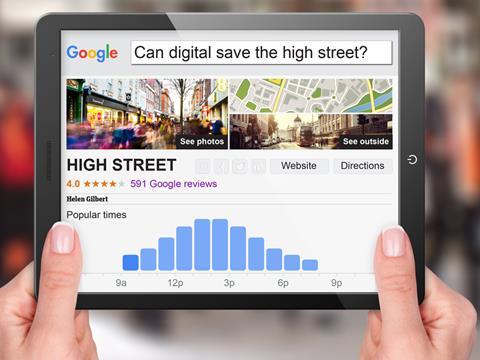 First it was out of town supermarkets. Then it was extortionate parking costs. And the most recent reason cited for the demise of the high street is digital marketing. But now it seems online technology could also help reverse this trend.

Google claims 'near me' searches have doubled in the past year, as shoppers realise it can be quicker to buy something on the high street rather than online. Mobile searches have also overtaken those performed on desktops for the first time in the UK, according to the search engine giant. And in a separate survey of 1,500 consumers by xAd, a location-based mobile advertising technology provider, some 56% of people say they make purchasing decisions "immediately or within an hour" of researching an item on their smartphone.

So what should retailers be doing in light of these findings?

Gori Yahaya, head of training and development for Google's 'Digital Garage' - a free event that teaches individuals and businesses the digital skills needed to boost online visibility - says businesses should ensure they have a presence in cyberspace, even those without a website.

One way is to use the free Google My Business tool, which creates a Google Plus page that lists a store's name, address, phone number and opening hours. Yahaya says this can boost a business's profile when Google searches are made. "Map results will also be found," he adds.

Local retailers should also take note of the way younger people are shopping. Last month a report published by Shoppercentric found younger people 'expect to be impressed' before parting with their cash.

Of 525 Generation Z shoppers [15 to 24-year-olds] surveyed, more than half (52%) described going to physical shops and malls as much a social pursuit as it is about buying things; 49% said they used product displays for ideas and inspiration; while 62% said they were tempted to buy an item on promotion.

This has not gone unnoticed by Martin Hiscox, group buyer & development manager of Better Food, an organic health food retailer that has three stores and cafés in Bristol. The business recently signed up to Wriggle, a website promoting exclusive food and drinks deals from independent retailers.

Established two years ago by former lawyer Rob Hall, the platform was originally set up as a means to help reduce 'food waste' from Bristol-based shops, cafés and restaurants, but has since signed up 350 companies and expanded into Brighton and Cardiff. "The idea was that at the very last moment you could reduce the price of products and people could book them through our mobile app or website and go and pick them up," Hall explains.

"It's become a very good tool for food and drinks businesses to get people to discover their brands at the same time as helping them fill up their quiet times and reduce wastage. We've got almost a marketplace where customers are booking directly with lots of independent businesses."

Hiscox believes Wriggle will enable Better Food to "build gradual footfall through new experiences", especially as the platform has a 'large number of active users' in Bristol whose user-demographic aligns well with theirs. Deals such as £1 coffee offers or discounts on the café menu are among those that will be promoted on the site in order to attract potential new customers.

"We have a good upsell opportunity with a café, grocery, produce and health and body care offer in all three stores," Hiscox explains. "In addition, it's a reactive platform so we'll be able to use it to reduce food waste."

Beacons

Another way local retailers can attract footfall is through beacon technology. Shops are increasingly installing this matchbox-sized tech in their stores, which emit small data packages via Bluetooth. "These enable mobile applications to register themselves on to the beacon when they're in the vicinity, allowing the retailer to send notifications and advertising messages to a mobile audience," says Bazyl Reinstein, mobile innovation specialist at IT consultancy BJSS.

A Magnum initiative in which it developed an app that helped friends meet for an ice cream - developed by agency Karmarama - resulted in a 17% uplift in sales after it was implemented in 270 Tesco Express stores.
"Beacon technology can enable scanning items for reviews, checking stock levels or being directed to an item's location"
"Mobile is now an extension of the shopfront," explains Karmarama partner Ryan Hall. "More and more consumers are opting into push notifications and GPS-enabled content, which is driving the need for this kind of communication between brand and consumer. The real engagement will come with making that content timely and appropriate to their location."

Smartphones are "like having a pocket personal shopper," adds Charlotte Summers, media planning group head at digital media specialist Equimedia. "This can include scanning items for reviews or providing additional content, checking in-store stock levels or being directed to an item's location. Beacon technology can enable this."

And it's perfect for small high street units. The technology might be impressive but the initial cost is not. A typical beacon costs from £5 to £25, the variable pricing dependent on things like range and battery life (they can keep pinging messages for years) making them perfect for a high street business looking to virtually beckon someone into the store, like a 2016-equivalent of a sandwich board. It's why One Stop introduced beacons back in 2014 and independent wholesaler Bestway put 600 iBeacons in 60 depots last year.

Social media

Beacons aren't the only way for high street outfits to use smartphones to lure shoppers to their stores. Mark Walker, senior client director at dunnhumby, insists Facebook, Twitter and Instagram should be at the forefront of a retailer's plans, but stresses that activity should 'not be left to chance'.

He praises Eat 17, an artisan Spar retailer which combines a store, burger bar, restaurant and, in one outlet, a cinema, who have a "clear plan about what messages and content to share, when and by whom and understand that it can take time to reach large-scale awareness and adoption," he says.

Staff are equally important in building and sharing knowledge about products, the brand and being advocates themselves - which adds authenticity and feels less corporate.

Eat 17's content, and photography, is of particular high quality, which is easy to share by these everyday influencers," Walker adds. "Setting out a series of themes and inspiration across the year allows those retailers to evolve the conversation and drive inspiration and discovery around their range or offer. By building on the foundations of clear plans, great content and inspiration, smaller retailers can meet the knowledge needs of these important everyday influencers online, who in turn will lead the return to the high street." (see box p25).

Use of picture-based website Pinterest is also soaring among businesses. Pinterest says over 150 million people worldwide use the website or the smartphone app every month to search for images that will give them inspiration and help them plan for everything from seasonal moments, to life events and their everyday lives. And food and drink is the third most popular category on Pinterest (behind women's fashion and DIY projects) with more than 13 billion food-based images available.

For instance, a small high street vegan or gluten-free bakery might upload some interesting pics just in time for Shrove Tuesday, also listing the recipe and the details of their store below it. Anyone searching Pinterest for vegan or gluten free pancakes will bring up 'Pins' from local businesses first, thus driving potential footfall. Particularly popular 'Pins' may also show up in Google searches.
"Our goal is to surface content that people find inspiring and that they can take action on wherever they are - i.e. buy ingredients to make the recipe from their local grocery store," says Adele Cooper, Pinterest's UK & Ireland country manager. Pinterest is also completely free for personal and business accounts (business accounts also get access to consumer behaviour analytics). As a result, as many as 75% of posts are from businesses because "they can reach consumers at the moment they are actively planning something," says Cooper.

"We see people searching for midweek meals they can make in 20 minutes after work. There's a growing number of people searching for 'gluten-free', 'dairy-free' and other 'free-from' meals. There are always Bake Off-inspired bakers looking for inspiration and Christmas recipes are very popular right now. Some of the most successful ideas on Pinterest include recipes from grocery retailers connected to these topics and searches. If people see a recipe they want to try, they can click on the Pin to find out what ingredients they will need to buy and the directions for how to make it."
Cross-promotions with Cupcake Jemma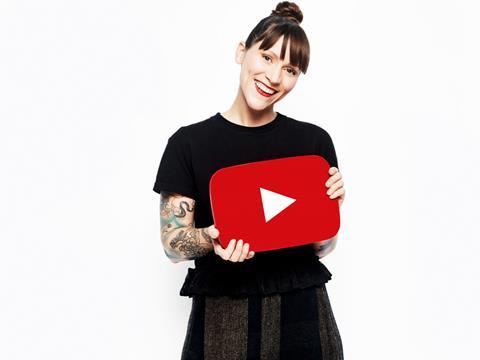 Jemma Wilson, 37, founder and co-owner of Crumbs & Doilies Cupcakes in Soho, London, started out selling cupcakes from an East End market stall in 2006. She was invited to run a stall at a street party organised by Jamie Oliver to celebrate the opening of his restaurant Fifteen. This led to her becoming part of Jamie Oliver's Food Tube channel, in which she presented weekly how-to baking videos. That gave her massive exposure - Oliver has more than 2.7 million subscribers to his YouTube channel - before she launched her own YouTube channel.

She is now one of the most popular food creators on YouTube with her 'Cupcake Jemma' channel claiming almost 900,000 subscribers (her 'How To Make the Best Ever Rainbow Cake' tutorial video has been viewed more than three million times). She says videos like these drive footfall to her physical shop in Soho.

"People were obviously wanting to view baking videos on YouTube because there were so many views on the videos that were up there, but they were really poor quality and they went on for ages," she says. "They would have five million views even though they were so monotonous. So I thought I could offer something more entertaining and offer recipes that would actually work. I did a Dr Who Dalek cupcake. The first time I thought I've got a lot of eyes on me is when the Rainbow Cake video hit a million views in 2014. I never thought a million people would see that video. I think it's at two or three million now. People come to me and say 'I made your rainbow cake' and I'm absolutely amazed they've gone to the effort of making one of these cakes."

Wilson says she also does "cross-promotion with the Doilies Instagram account, so if I'm in the shop I'll post things like what I've eaten. Even people who aren't into baking love to see a beautiful-looking cake. Visually for us, having Instagram is really important."

So what's her top tip? "I think the biggest mistake people make is not spending enough time on a recognisable brand and carrying it through on all their social media. Have a nice design and keep the branding tied in, so everyone recognises it."

Wilson also took to digital to raise investment for the shop, crowdfunding the required £6,000 in 2006.
Click & collect
Becoming a collection point for click & collect orders is another way of introducing online shoppers to your store. HubBox, which launched in May last year, has a network of more than 1,000 local retailers, and expects to double this number by the start of 2017.

There is no cost to become a HubBox collection point and the retailer gets paid for every parcel they take, explains co-founder Sam Jarvis.

"Many of the independent businesses we contact to become HubBox collect points are enthusiastic about the chance to add an additional revenue stream as well as to capture footfall of local people who might never have been in the shop before," Jarvis insists.

Retailers must also make bricks and mortar retail as frictionless as the online purchasing experience, according to Dave Hobday, Worldpay's UK MD.
"Mobile point of sale can be extremely simple to integrate. Retailers can add more and position staff around the store"
Research conducted by the payment provider found 80% of consumers would leave a store without finalising a purchase if they had to wait for more than five minutes to pay.

Hobday says mobile technology that takes employees out from behind a fixed counter, and places them on the shop floor, can provide assisted, personalised shopping experiences to customers - something consumers can miss out on when shopping online.

"Our data shows the value of assisted shopping transactions can be as much as 40% higher than standalone shopper transactions, so the benefits to the retailer are tangible," he explains. "Mobile point of sale can be extremely simple to integrate," he says. "For example, retailers who use Worldpay Total Mobile need only arm their staff with a tablet loaded with the solution connected to a mobile payment device. The solution is extremely scalable and flexible - retailers can add more points of sale at busy times, for example during a Christmas rush - and also position staff at different points within the store to help alleviate bottlenecks."

The future?

And what of the future? According to Reinstein, advanced 'two-way communication' beacon technology is already being rolled out and is an 'industry game-changer', enabling the retailer and the customer to broadcast and receive information at the same time.

Based on the demographics, lifestyle and social profiles of the actual customer inside (or close to) their store, retailers will be able to supply relevant information such as special offers or new product information tailored to purchase history or wish lists. Targeted incentives, loyalty program rewards, and discounts will also be options, he adds.

Malcolm Seagrave, BJSS head of retail, agrees. "Several retailers in London have conducted similar trials themselves, resulting in increased brand sentiment and significantly improved sales figures. By the end of 2020, around 400 million of these beacons will be in use across major retail destinations, making shopping a more immersive experience that is tailored to individual interests and budgets."

Whether digital will help reverse the fortunes of the high street remains to be seen. But high street retailers will certainly be relieved to hear that new technology is not only on their side, for once, but inexpensive or even free.
How to make yourself visible online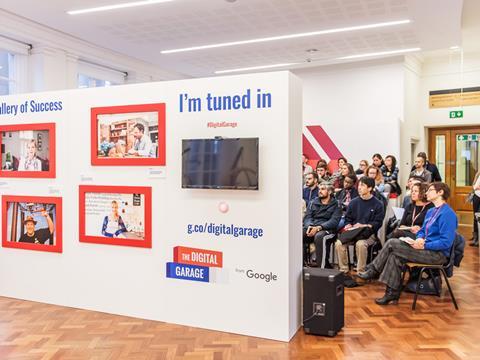 Everyone knows how the front end of Google works, but Google is now introducing small businesses to how the back end operates via its 'Digital Garage' events, which are currently running in Glasgow and Cardiff. The free training for individuals and small businesses covers topics on how to boost your online profile via search terms, keywords, online marketing, social media and Google Adwords, a tool that costs as little as a few pounds but can help your business appear higher in search results and potentially reap big rewards. The event forms part of Google's mission to improve the business skills of 250,000 people by the end of 2016. Free online training is also available.
For more information head to g.co/DigitalGarage.