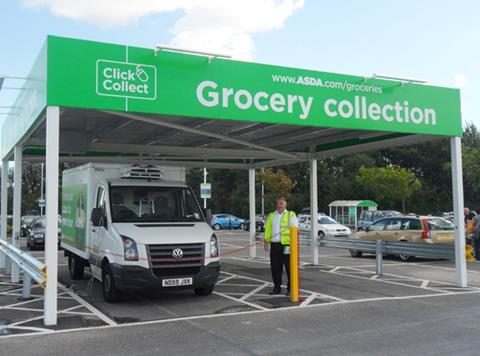 Click & Collect is a vital part of online commerce.
You might not have deduced that from the last few weeks, though. The truth is, it's the part of online shopping that's stepped up to compensate for the major failing of buying goods online - the delivery system.
One of the great challenges of making shopping online convenient enough that shoppers are tempted to leave the high street behind altogether has been to develop ways for consumers to get their goods without experiencing inconvenience.
The original proposition for solving this was simple - get goods near consumers, wherever they might be at the time. Recent weeks have shown us, however, that it's not quite that straightforward.
First of all, Tesco and Sainsbury's pulled out of their partnerships with Transport for London, partnerships that saw collection lockers being placed in Underground stations so busy commuters could just swoop in on their way past and collect their groceries.
It didn't work out, and had some unforseen consequences. The big problem was, of course, that the proposition failed to make groceries more convenient for shoppers. What's worse than walking through a packed tube station at rush hour? Well, walking through a packed tube station at rush hour while holding bags full of things that looked nice online, but you didn't realise would be quite so heavy. If I'm going to walk back to my house with groceries, why don't I just go to the supermarket?
In fact, as the Evening Standard reported in an article that would, ironically, be strewn carelessly across tube stations later that day by tired commuters, people were driving to the stations, parking their cars, and going in to collect their shopping. Thus, the apparently convenient proposition had in fact added more people, some of whom were no doubt dangerously parked, to an overcrowded tube station. Oh well.
Then came yesterday's announcement that John Lewis would begin to charge a modest fee for Click & Collect orders under £30, with MD Andy Street calling the "huge logistical operation" behind the current model "unsustainable". This again shows a weakness of the current C&C proposition, and one reason convenience is winning out in the cities - sometimes consumers want a few small items.
C&C on a wider level is working just fine, though. We had Asda CEO Andy Clarke at Grocer Towers this week, and he delighted in telling us about the success of the standalone Asda petrol stations, saying that C&C was an absolutely vital part of these operations. Asda already runs 20, and are looking to get to 100 locations, bringing C&C closer to residential areas and to a more convenient place people can safely park their cars.
Finally, Amazon seems to have a solution, debuted this week, that is potentially the king of convenience - their new one-hour delivery service will, for a modest fee and provided you're a Prime member in one of a few London postcodes, bring goods to wherever you are within one hour. If you're a little more patient, their two-hour delivery service is free.
We asked Sam Williams-Thomas, CEO of OgilvyOne UK, for his opinion on Amazon's latest move. "Amazon has never been afraid to try something new and has always worried about the commercials later," he said. "It is, of all the e-retailers, best placed to deliver this kind of service and much like it did with the long-tail of products and free delivery (Prime), the challenge will be the expectation on other retailers to keep up.

"In terms of sustainability, this is a trial; and it's possible that the proposition will change if it rolls out to new cities or beyond the existing Prime membership. However, the logistics point is a great one and I'm willing to bet that the trials have been heavily data-led. Amazon has always been brilliant with retail data and it is probably the only e-retailer that can spearhead this initiative, as the logistics model become more robust and demand grows.

Despite this, if the service can't be fulfilled, it poses a very big risk as the service delivery and customer experience is inherent in the brand. I think it will either pay off in dividends, or be limited to Prime Members until they've got a new model. I wouldn't be surprised if they plan to analyse purchase patterns to drive future strategy, but the one really scary thought is the threat this brings to local shops reliant on immediate gratification."
I would have thought, ironically given the dissolution of Tesco and Sainsbury's partnership with TfL, they'll be using the tube to make these deliveries, in much the same way as they've been doing in New York.
How sustainable this logistical operation is remains to be seen, of course. Prime membership is already a money-loser for Amazon, but they don't show many signs of rolling back their delivery options any time soon, and of course, don't compete on groceries, which has led to dozens of Amazon Lockers being scattered in food stores around the country.
Click & Collect, and online delivery in general, is still anyone's game. It's an exciting area of online commerce that is still ripe for innovation on several fronts, and perhaps one that is waiting for its "Uber Moment", the minute when the game-changing service arrives to destroy the status quo. Until then, the battle between convenience and logistical constraints will rage.