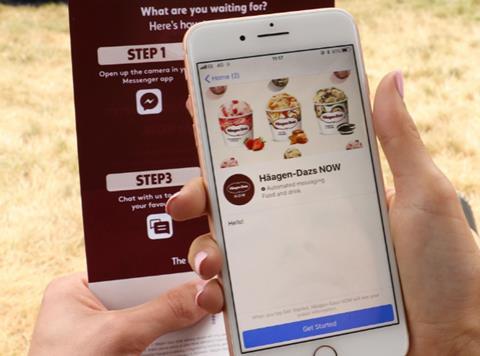 General Mills has unveiled an e-commerce service that allows users to order Häagen-Dazs ice cream via Facebook wherever they are.
Called Häagen-Dazs Now, it uses "an innovative combination of proven mobile technologies", taking orders via a chatbot platform in Facebook Messenger. Web-based geolocation then pinpoints the customer's exact position, with real-time syncing of data keeping track if the person is moving. No postcode is required.
At the same time, the app user can keep track of his or her order – delivered by a Häagen-Dazs Now team member.
Claiming to be the first ice cream brand to move into automated product delivery, Häagen-Dazs trialled its app on Friday (7 September) in Russell Square, London, offering a variety of 100ml mini tubs and 80ml handheld ice creams. With a price of £2.50 each, they were as much as 186% more expensive than their base price in the mults, where they are sold in packs of four.
Häagen-Dazs Now tapped "the growing trend for geo-targeted services" said Häagen-Dazs senior brand manager Samuel Horner. "We're testing it to inform future consumer engagement plans, each of which aim to make every day extraordinary for our consumers."
The app was created by London brand development agency Space. Its managing partner David Atkinson said geo-targeting faced a "very exciting" future.
"General Mills is an innovative business and it's a pleasure to be given the opportunity to create ground-breaking initiatives together," he added. "This activity provides evidence of our collective consumer-centricity and a desire to provide utility and advantage to our consumers."