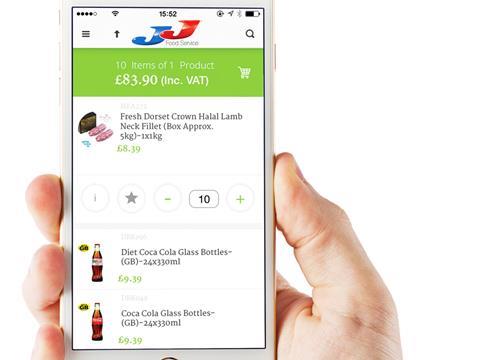 JJ Food Service is looking to add a personal touch to e-commerce with a smartphone app that can predict customer orders.

The app, available for iOS and Android, uses machine-learning technology to make suggestions based on order history. The new technology aims to improve the shopping experience by making ordering easier and faster.

"We went from being a 100% call-centre-based operation to an e-commerce-driven business," said COO Mushtaque Ahmed. "But the challenge with that is that you lose the ability to up-sell, cross-sell and capitalise on impulse purchases."

The business aims to restore these lost elements by adding predictor technology to its online operations. "We have already seen a significant increase in basket spend," said Ahmed.

JJ's new app uses three years' worth of customer order histories to make the most helpful product suggestions to add to the basket. It claims its new technology will allow busy customers to place an order for delivery in seconds.

"With 60,000 customers, 10 years of order histories and some complex mathematics we can be surprisingly helpful," said Ahmed.

Family-owned JJ Food Service has eight branches in the UK. The £183m company supplies to retailers, coffee shops, pubs, schools, hotels and restaurants.

It launched its first e-commerce website in 2008. By 2013, internet sales accounted for 50% of turnover.

As well as launching its new customer-facing app, JJ has also introduced new technology to the operational side of the business. Bluetooth temperature sensors have been added to its multi-temperature vehicles while another app has been created solely for the use of delivery drivers to keep them informed of upcoming orders automatically.