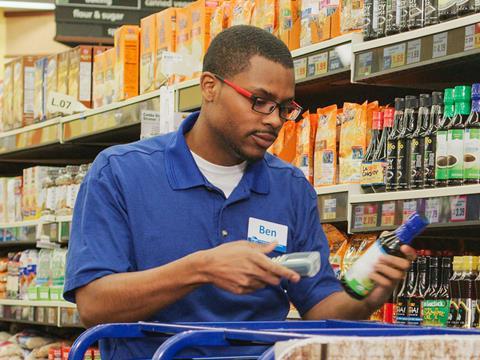 US supermarket Kroger and Microsoft have formed a partnership, piloting two high-tech stores that the retail giant claims will "redefine grocery retail at both Kroger and around the world".

The two test stores are near Kroger's headquarters, in Monroe, Ohio, and Microsoft's in Redmond, Washington.

The aim is to meld online and bricks-and-mortar grocery shopping with technological innovation using the Microsoft Azure cloud platform, which will store and process location-specific data.

They will use what they learn to market a "retail-as-a-service" package, which they will make available to retailers all over the world.
The two US pilots will have digital shelf labels and image recognition cameras to make it quick and easy to locate products in store via a phone app or the retailer's existing 'Scan, Bag, Go' terminals using a pre-populated shopping list.

Digital signs can also be used to show pricing, product information and demographically-targeted advertisements and recommendations based on individual customers. Image recognition cameras will alert staff when stock is running low.

The partners plan to market the package all over the world at a time when Amazon plans to open 3,000 Amazon Go "cashierless" stores across the US over the next three years and Walmart tests its first cashierless concept store.

Natalie Berg, founder of consultancy NBK Retail, said: "Cutting out friction - product navigation and checkout - will be a major focus in 2019, especially if Amazon Go really opens in London as is expected.

"The supermarket of the future will be frictionless and hyper-personalised, as bricks-and-mortar retailers aim to replicate the convenience and ease of buying online.

"The Microsoft alliance allows Kroger to tick that box, but it's just one piece of the puzzle…. The anti-Amazon alliances are now coming thick and fast, with the likes of Microsoft, Google, Instacart and Ocado particularly benefiting."
Catherine Shuttleworth, chief executive at shopper marketing agency Savvy, said the technology in the Kroger/Microsoft deal was "relatively clunky" compared with what Walmart and Google were developing and more complex than Amazon's "intuitive activation" approach.

"This is a trial and should be seen as a brave experiment, but at this stage rumours of Amazon opening 3,000 Go stores by 2021 are much more significant."

Some UK retailers were already in advanced learning stages of adaptations of technology and applications of new ways to trade, she added.

"They will watch this experiment with some interest, but focus will remain on technology that makes shopping easier, smoother and more convenient," said Shuttleworth.

Satya Nadella, CEO of Microsoft, said together Kroger and Microsoft would "redefine the shopping experience for millions of customers at both Kroger and other retailers around the world, setting a new standard for innovation in the industry".

Kroger chairman and CEO Rodney McMullen said the retailer was building a "seamless ecosystem driven by data and technology" to provide its customers with "personalised food inspiration".

Last summer M&S forged a partnership with Microsoft to integrate AI technologies into its customer experience, stores and wider operations.