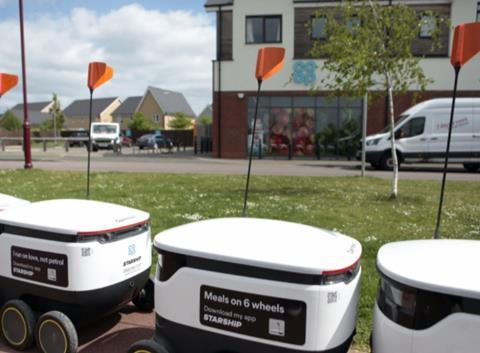 Robots delivering Co-op groceries have hit the streets of Cambourne today, as part of a pilot.
The trial – organised by Cambridgeshire County Council and robotics firm Starship Technologies – will give 12,000 residents in 5,000 homes access to the autonomous delivery service.
The Cambridgeshire pilot will see residents living in Lower and Upper Cambourne order deliveries picked by store staff at the Co-op store in Mosquito Road, Upper Cambourne.
Residents will be able to choose from a range of grocery items on the Starship app, schedule their delivery, then drop a pin where they want their delivery to be sent. They can watch in real-time via an interactive map as the robot makes its journey to them. Once the robot arrives, they receive an alert and can meet and unlock it through the app.
Starship's six-wheeled autonomous robots launched in the UK in 2018, delivering groceries in as little as 15 minutes within a two-mile radius of a Milton Keynes Co-op branch. The service has since expanded to more areas of Milton Keynes, and in 2020 rolled out in Northampton in partnership with Co-op.
There are around 500 Starship autonomous vehicles currently in operation in the UK, delivering for Co-op as well as from several Tesco and Budgens stores.
"We are very pleased to be bringing the benefits of on-demand, contactless grocery delivery to residents in Cambourne," said Andrew Curtis, UK operations manager at Starship Technologies.
"In the last few years we have had extremely positive feedback from people using our service regularly in Milton Keynes and Northampton who have embraced the robots as part of their local communities. We're looking forward to working closely with the council in Cambridgeshire and hopefully expanding the scope of this initial project."
The pilot is part of Cambridgeshire County Council's environmental agenda, as it promises to reduce short car journeys and improve air quality. The average delivery for a Starship robot consumes as little energy as boiling a kettle to make one cup of tea, Starship said.
"I'm delighted people living in my ward will now be able to enjoy the convenience of having small food deliveries dropped off at their front door," said councillor Mark Howell, member for Cambourne. "This will cut down on the number of small car journeys and save time."
As of March, globally Starship has completed three million commercial autonomous deliveries.
The company raised $42m last month, coming just months after raising $57m from the European Investment Bank, the funding arm of the EU.
In April, one of its robots was involved in an incident in which a toddler was "hit and pushed" in Milton Keynes.