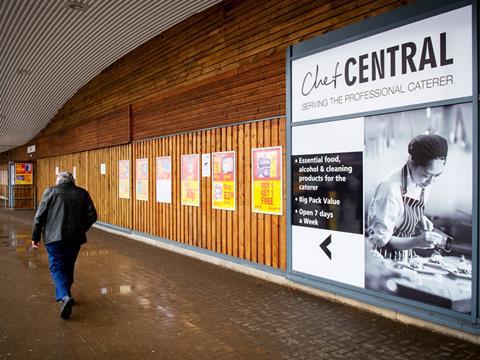 'Pile 'em high, sell 'em cheap' was of course the famous motto of Tesco founder Sir Jack Cohen, so to describe Tesco's latest venture, announced on Friday, as a new concept would perhaps be a bit of a stretch.
But news that the UK's biggest retailer is piloting no less than 50 different models of its new Booker Chef Central proposition, at stores across the country, shows how quickly the merger has resulted in a frantic new wave of activity. The pilots aim to both repurpose excess space at Tesco stores and provide customers with a very different type of shopping experience.
As exclusively revealed by The Grocer last month, Tesco boss Dave Lewis and new UK CEO Charles Wilson plan to use excess space in Extra stores to ramp up sales of bulk buy food and non-food items, using its Booker supply chain.
These models are promising to look very different to the standalone Chef Central store, which opened next to its Bar Hill store in Cambridge in February. Plans for this preceded completion of the merger.
Instead of a standalone unit, the second version to open to customers - at Tesco's Gallions Reach store in Beckton, east London, quietly launched two weeks ago - has replaced unwanted GM space.
There seems a lot more to Chef Central than what was billed as a predominantly B2B offering aimed at caterers.
The trial stores are selling a raft of food and drink items, including bulk packs of PG Tips tea, Heinz ketchup, Kohinoor rice and Yorkshire Tea.
Tesco has also identified a major opportunity in areas with high ethnic minority populations, where it is ramping up the sale of different bulk purchase products such as rice and cooking ingredients.
Lewis told The Grocer he thought Chef Central would appeal both to professionals and to the families who wanted to stock up with bulk goods at low prices.
But it is clear it's the latter Tesco is increasingly looking to appeal to by getting closer to the spirit of Cohen's old mantra.
Q1 has seen Tesco once again up the ante against its traditional supermarket rivals on price, with investments across its fresh offer, but it is the success of Aldi and Lidl that is still clearly at the centre of its thinking.
Lewis was typically not giving much away when he was asked on Friday about Tesco's long-rumoured launch of a new discount chain, to go head to head with the discounters. The jury is out among experts as to whether this idea will come to fruition, at least as a truly standalone business, considering the infrastructure Tesco will need if it is to fully commit to a separate discount arm.
Yet Lewis would only say he could not "confirm or deny" the rumours, perhaps suggesting they are not entirely misplaced.
And with its frenzy of activity and trials of new models already well and truly up and running, Tesco is clearly not in the mood to stand still as it looks to simplify its offer further.
Sainsbury's and Asda will be hoping they do not get caught up in the choppy CMA waters for too long, for fear they are left trailing far behind the fast-moving, and fast-transforming, Tesco juggernaut.