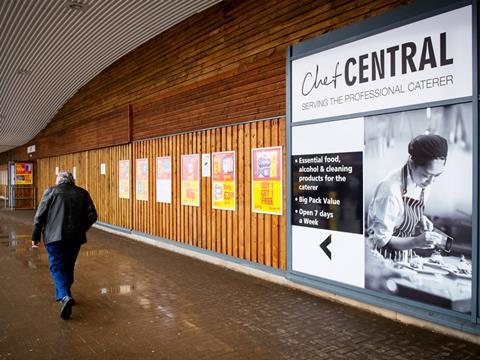 Tesco is launching 50 different models of its Booker-driven, Chef Central concept in trials at large stores across the UK, ahead of a planned national rollout.

As exclusively revealed by The Grocer last month, Tesco CEO Dave Lewis and new UK CEO Charles Wilson plan to use excess space in Tesco Extra stores to ramp up sales of bulk buy food and non-food items, aimed both at professional caterers and everyday shoppers.

Lewis announced today that Tesco had launched a second Chef Central at its Gallons Reach store in Beckon, East London.

Unlike the initial store in Bar Hill, near Cambridge, this store is not a standalone unit and The Grocer understands that Tesco will roll out different sized sections within different stores depending on the market.

Whilst Lewis said that the range had a strong B2B focus, he confirmed that it was also aimed at bulk-buying customers looking for discounts.
He told The Grocer the trial stores would sell a raft of food and drink items, including bulk packs of PG Tips tea, Heinz ketchup, 5kg bags of Kohinoor rice and Yorkshire Tea.

It is also understood that in areas with high ethnic minority populations, Tesco will use its Booker supply chain to ramp up the sale of different bulk purchase products such as rice and cooking ingredients.

Lewis said: "We are currently trialling this in 50 different stores, testing different models.

"I suspect Chef Central will be shopped by both professional caterers and by other customers, people with families who are interested in large purchases."

Sources have told The Grocer that managers at more than 250 Tesco Extra stores have been asked to identify potential spare space, on average 10,000 sq ft, to make way for an expansion of the Costco-style operation.

Tesco's ambition for the rollout is believed to have been given extra impetus by the proposed merging of Sainsbury's and Asda, which, if successful, could pave the way for the expansion of hundreds of Argos stores across the UK.
Meanwhile Lewis today spoke publicly for the first time about Tesco's decision to slash the number of suppliers it works with, in the next stage of Project Reset.

The move is being billed as a 'sourcing reset' and will see Tesco conduct a sweeping review of its entire supplier base over the next two years.

Lewis said: "I see suppliers on a very regular basis and I think that the relationship with them is very good.

"We are being very transparent in what we're doing. It is driven by the need to have the right availability on the shelf and to make sure we have a higher proportion of high-value lines.

"We also want to have longer term relationships with our remaining suppliers and prioritise those that are making investments for our customers."
Lewis denied that Tesco was planning to squeeze suppliers out to put the emphasis on its own label rollout, although he said it was on track to relaunch 10,000 own label products by the end of 2018.

So far it has relaunched 2,850 products under its Project Atlas strategy, including brands such as Hearty Food Co, Butcher's Choice, Ms Molly's and Grower's Harvest.

The own label brands are central to a major investment on price in Tesco, which has seen it slash the cost of its fresh produce lineup at the beginning of the first quarter, to take the fight to discounters Aldi and Lidl.