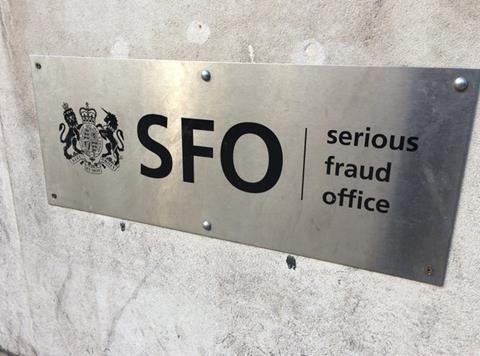 Former Tesco finance director Carl Rogberg walked free from court today after the Serious Fraud Office (SFO) dropped all charges against him, bringing an end to an ordeal lasting more than four years.

The SFO, which had accused Rogberg of being one of the "generals" in a 2014 fraud case at the UK's biggest retailer, said it would be offering no evidence.

It comes weeks after the case against two other men, former UK managing director Chris Bush and ex-UK food commercial director John Scouler, was thrown out by a judge due to lack of evidence.

Rogberg was deemed not well enough to face a retrial which started in October last year, having suffered a heart attack during the original trial in February last year.

Rogberg had faced charges of fraud by abuse of position and false accounting between February and September 2014.

Today Rogberg, who faced charges of fraud by abuse of position and false accounting between February and September 2014, made an emotional speech outside Southwark Crown Court.
"It is a huge relief that this day has finally come. While I always had faith that it would, the journey here has not been an easy one. The trial has had enormous consequences on my health and exemplary career, as well as for my wife, my son, my family and my friends," he said.
"This decision is so much more than simply an acquittal. The trial judge ruled that the prosecution had no case and stopped the trial. The SFO tried to appeal that decision. Three appeal court judges refused permission for the SFO to appeal and confirmed the trial judge's decision. In short, there was never any evidence of my wrongdoing and I should never have been charged.
I have serious questions for Tesco and the SFO about the way this case has been handled throughout.
As I have always said, I acted honestly at all times. I am relieved and happy to be standing here with my name cleared of all the false allegations that have been made against me. I would like to say a huge thank you to my family, to our many amazing friends for their phenomenal support and to my fantastically dedicated legal team for working tirelessly to reveal the truth."
His lawyer Neil O'May, a partner at Norton Rose Fulbright, said: "This is more than simply an acquittal by a jury. It is a finding that there was insufficient evidence on which the case could have been brought. This is unprecedented in high-profile serious fraud cases.

"There must be real concern that a serious fraud case is brought without the SFO having expert accounting evidence in which to understand the nature of the case. There was also no real investigation undertaken to show whether or not there was indeed fraudulent activity as alleged at the level of buyers and suppliers."

O'May also joined lawyers for the other two men in slamming the publication of a deferred prosecution agreement (DPA) by the SFO today, setting out an alleged version of events agreed by Tesco.

He added: "Mr Rogberg feels the law has let him down. He believes the DPA was agreed for commercial purposes and throws justice and truth to the wind, and him with it."

At his trial in 2017, a lawyer representing Rogberg told the court there was no evidence he bullied staff into falsifying the company's accounts.

Nicholas Purnell QC told Southwark Crown Court Rogberg was "outside the circle of knowledge" of a report prepared in the run-up to the announcement of its 2014 profits overstatement, known as the legacy paper.

The supermarket made a public announcement to the stock market on 22 September 2014 declaring it had overestimated profits by around £250m.

The figure was later increased to £263m and upwards again to £326m in April 2015.
"What witness from the case of the prosecution has described being directed by Mr Rogberg to behave in one way or another?" he said.

"These propositions that the prosecution would set out to show a group of people set out to coerce and bully people into behaving in a particular way are simply not reflected in the evidence that you have heard."

Purnell also claimed Rogberg was unaware of the looming scandal and emphasised the huge scale of Tesco's financial operations, saying Tesco's management was of a similar size to the "civil service of a medium-sized country".

He said Rogberg received more than 2,000 reports every month and was in charge of 250 to 300 people in the UK finance team.

His office was in a completely different location to the accounting department and he did not attend meetings or see documents relating to the investigation, Purnell added in November 2017.