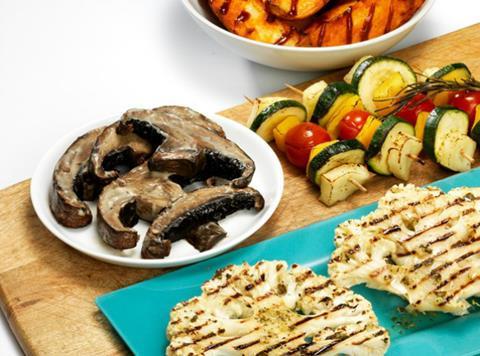 Tesco is claiming a UK first with the launch of a prepared BBQ veg range consisting of cauliflower and mushroom steaks.

The two products, which went on sale this week, were designed to make "BBQ parties more exciting for vegetarians", said Tesco, and come at a time when demand for vegetarian food is on the rise, with sales for chilled vegetarian meals in the retailer up almost 20% year-on-year.

The 450g cauliflower steak variant consists of a pre-sliced cauliflower in a foil tray with a lemon and garlic drizzle, while the 245g mushroom steak consists of sliced Portobello mushrooms in a foil tray with pepper sauce (rsp: £2 each).
The products were already popular in restaurants but were a first for a UK supermarket, said Tesco food developer Alison Stokes.
"Vegetarian customers have told us they often feel they can be an afterthought at BBQ parties and if they're lucky they might be able to find some corn on the cob or halloumi, she claimed.
"We've decided to help by creating the UK's first ever cauliflower and Portobello mushroom steaks which we believe is an irresistibly delicious option that not only to vegetarians but also to meat eaters."