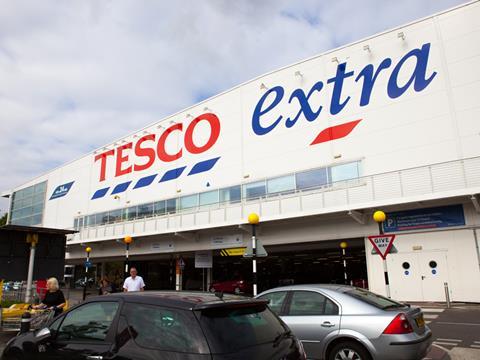 Tesco has launched the latest version of its bulk buying concept on the back of its merger with Booker.

The retailer's Grimsby Extra store opened the new bulk buy section on Thursday, with an expanded version of the model first trialled at its Gallions Reach store in Beckton, East London.

The concept replaces unwanted GM space at the store with cash & carry-style deals for products including washing powder, bin bags, coffee, hot chocolate, bread, water, rice and crisps.
Leading brands on sale include Daz washing powder, Volvic mineral water and Yorkshire Tea.
Tesco has been trialling different incarnations of bulk buying thanks to its Booker ownership, including both dedicated Chef Central stores aimed at the catering industry but also a bulk buying model aimed at the general public.

At its recent results announcement, Tesco CEO Dave Lewis said it had eight stores lined up to open new departments in the quarter to come.

Tesco said the Grimsby store had undergone "massive alterations" to improve the range of bulk buying opportunities, which would normally only be open to cash & carry customers.

"It's all about trying to get more people into the store and giving a wider choice of products and a better value of products," said Rich Power, lead manager for Tesco Grimsby.
Examples of Grimbsy Tesco bulk buys:
Cushelle toilet tissue - Two packs of 24 rolls for £16 or one for £10
Fairy original 100 dishwasher tablets - two for £19
Lenor linen care fabric conditioner - £7.50 for 200 washes
Yorkshire Tea - 600 teabags for £10
Golden Wonder variety pack crisps - £3.50 for 50 packets
Haribo sweets - 1,056g tub of sweets for £4
Baguettes - eight-pack (4x2-pack) for £2
Penne pasta - 3kg for £6