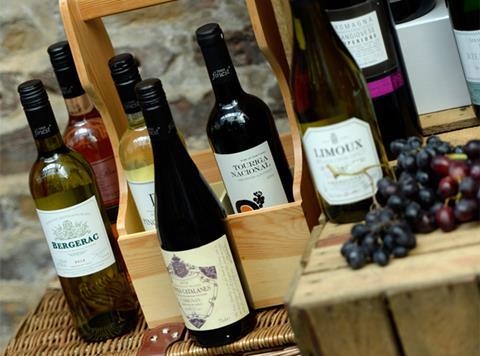 Tesco has jettisoned its Tesco Simply and Vineyards budget ranges, in a major relaunch of its core wine category.
Under the move the retailer, which already slashed its wine range by 30% under Project Reset last year, has launched a new-look own-label range, to sit alongside its Finest offering, in a simplified two-tier lineup.
The removal of the Tesco Simply and Vineyards brands leaves the UK's biggest retailer with a reduced core line up of 116 wines at what it said would be "affordable and consistent prices", ranging from £3.50 to £8.00.
Tesco said it had removed 29 Simply lines as part of the relaunch, with 20 Vineyards lines biting the dust. Six Finest wines have been re-classified as core own label, with 10 new wines launched.
As well as the removal of the Simply and Vineyards brands, Tesco said some Tesco Finest wines would be rebadged to become part of its core lineup.
Tesco has also unveiled new branding to make the wines stand out and to highlight potential food pairings more clearly on the bottle.
It said the move would allow customers to make a quick and easy choice in the wine aisle and said it wanted to remove confusion among customers who had sometimes struggled to get to grips with a lineup with so many different budget varieties.
"We've been listening to customers and they've told us they want to get great value for money on quality products, but they sometimes need help to navigate the range," said Tesco BWS category director Gavin Warburton. "With this in mind, we've made our awardwinning range more recognisable and easier to shop by removing as much duplication as possible, so that shoppers can have the peace of mind that they can get everything they need at Tesco."
Ironically The Simply range, launched in August 2011 with 24 lines, was originally designed to offer "clear and recognisable labelling" to shoppers intimidated by Tesco's "wall of wine".
The Vineyards range had spearheaded its attempts to offer a basic entry level range to tackle the likes of the discounters and Asda.
Last year The Grocer exclusively revealed Tesco was overhauling its wine offer as part of Project Reset, with lower prices and clearer ranging.
This involved slashing prices on its Finest wine range and Tesco said at the time it was moving to a new, more transparent and simpler pricing strategy across its entire range.
Despite the rationalisation Tesco has been named as the own-label Range of the Year for the last three consecutive years by the International Wine Challenge (IWC). Earlier this month the retailer scooped 107 awards, with over 80% of the wines entered into the IWC awards picking up a medal.
Tesco's Master of Wine James Davis said: "We're really proud of this range. It has been selected with care, passion and skill and offers a range of styles to suit any occasion."