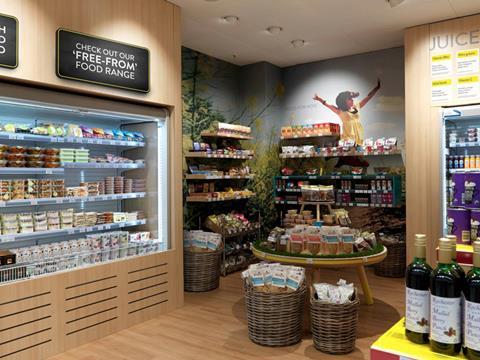 Tesco is relaunching its health and wellbeing service after promising to "shift the agenda" in a US-style fight against obesity.
The plan, launched at four Tesco stores under its Nutricentre brand - with a wider rollout at hundreds more being lined up - includes new layouts based on healthy food to go areas, free one-to-one health tours for customers, and a major new food and drink health range.

Tesco said consumers expected retailers, more than government, to be the ones responsible for their health, and warned they were currently confused by mixed messages in the media.

It bought Nutricentre for £3m in 2001 and 400 stores now feature it.

Tesco said it was committed to offering independent advice, including the tours, which will warn of the "hidden calories" in foods, and said it aimed to match the success of grocers in the US in tackling obesity.

The new layouts have already been brought into the Nutricentre operations at Tesco stores in Kensington, Watford, Coventry and Milton Keynes, and are set to be rolled out to all 400 Tesco sites with Nutricentre on board if they are a success.

As well as a new range of fresh food, including wraps, salads and yoghurts - with over 200 suppliers involved - Nutricentre is also considering an own-label range and also a 'good, better, best policy' directing consumers to foods and supplements tackling conditions such as food intolerances.

"The US grocers are just that much further ahead than in the UK when it comes to tackling these issues," said Amee Chande, MD of Nutricentre at Tesco. "What's clear is that consumers in the UK now see the role of food retailers and food manufactures as even higher than the government Retailers are the ones that are going to shift the agenda." Chande said that Nutricentre would also display information about the latest health headlines in the press.

"If we believe there is science behind it we will reinforce it. If not we will examine it," she said Tesco trialled free health tours at 13 of its Extra stores across England last year but the news of a nationwide rollout came as it warned there was still widespread ignorance about calories among shoppers.

A survey Tesco released in conjunction with the British Heart Foundation and Diabetes UK showed a huge number of shoppers underestimated the amount of calories in products such as semi skimmed milk, Indian ready meals and latte coffees.