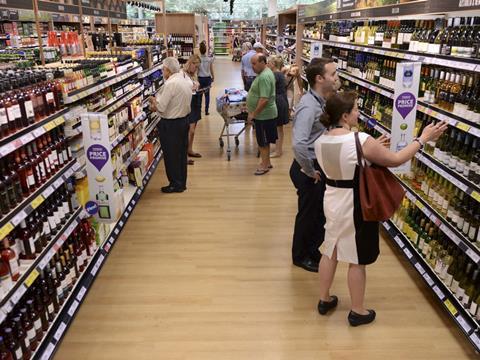 Tesco's wine aisles have taken a posh turn in their latest revamp.
The retailer added 47 new wines this week, with a considerable swing to more expensive SKUs and a boost for premium own-label.
Brands such as 19 Crimes, Wolf Blass, Dark Horse, McGuigan Reserve, Most Wanted, and Yellow Tail have won space, alongside six higher-end own-label SKUs [Brand View 52 w/e 18 April 2018].
Meanwhile, Tesco has delisted more than 30 SKUs from brands such as Echo Falls Pinot Grigio and Frontera Merlot.
It comes as prices are rising steadily across the wine sector, spurred on by the pound's weakening after the Brexit vote and duty costs. The revamp comes after Brits last year spent £192.7m on take-home wine sales [Kantar Worldpanel 52 w/e 31 December 2017].
Only eight of the new wines come in below £6. Of the delists, 12 were priced as such before they were slashed. Tesco did not comment when approached by The Grocer.
It was unlikely wine would be getting cheaper any time soon, said Kantar analyst Laura Christen, thanks to "Brexit, coupled with record poor harvests in key French and Italian wine-producing sectors".
It follows wider review of its BWS aisles, which saw exiled supplier Heineken stage a resurgence boosting its presence by 30-odd lines after it suffered a slew of major delistings in the retailer's Tesco's 2017 review.
Tesco has gone on to add a number of craft beers to its lineup this week, with listings for brands such as cult New Zealand brewery Yeastie Boys, and Scotland's Innis & Gunn.