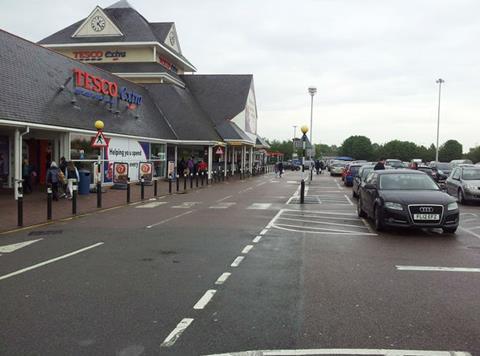 Tesco CEO Dave Lewis and Booker boss Charles Wilson did an amazing job keeping the lid on their plans for the £3.7bn merger of their companies. But they – or rather some seemingly loose-lipped suppliers – have done a lousy one if (and it is a big if) bombshell reports this weekend turn out to be true.
News, first reported in The Sunday Times, that Tesco is set to take on the all-conquering discounters with a new budget brand comes ahead of a seismic two weeks for Tesco and Booker, with shareholders due to vote on their merger on 28 February.
Now, on top of an expected rebellion by some shareholders and speculation over the future of Dave Lewis following Wilson's appointment as Tesco UK CEO, shareholders will be wondering if Tesco is also about to launch a war on a new front – one that recent history suggests could be a bloody and fruitless one.
The reports claim Tesco has hired advisors from Boston Consulting Group to oversee the launch of its own discount stores, which would carry a 3,000-product range. Boston was, controversially, at the heart of Tesco's Project Reset cull three years ago.
Lessons from Netto disaster
The results of recent retail misadventures suggest Tesco needs to tread very carefully if it goes down such a path. Sainsbury's decision to pull the plug on its Netto venture, as recently as July 2016, at a cost to the supermarket of tens of millions, is the most recent example of how hard it is for even the biggest supermarkets to build the sort of scale needed to compete with the discounters.
With Tesco refusing to comment on the weekend reports, speculation is now rife about exactly what its plans may entail. Some experts think a mysterious planning application beside an existing Tesco Extra, in Kettering, could be the first site for the new Tesco discount brand. Others suggest it would be madness for Tesco to start building new stores when one of its fundamental issues, especially in its big stores, is having too much space.
Yet retail and property experts expressed equally deep reservations about another option – the prospect of Tesco converting some of the space of its bigger stores, or its car parks, into standalone stores.
Launching a budget range either in, or next to, its existing store lineup would be a dangerous move. Shoppers would inevitably have questions about what this says about the everyday value of products like its successful Farms brands, let alone Tesco's competitiveness across the bigger picture.
How Tesco could pull off such a feat without cannibalising its own stores is the obvious problem, though as analyst Bryan Roberts puts it: "It's better to eat your own lunch than somebody else do it for you."
Another solution being touted is that Tesco might look to rebrand some of its smaller stores in poorer areas under whatever emerges as its new budget banner – though this would also ignore the fact that it's not just in poorer areas where Aldi has been gobbling up Tesco's business.
It would surely also be a massive gamble to start closing Express and Metro stores and rebranding them without any guarantee that the new concept would fare any better than Sainsbury's Netto disaster, or others before it.
The march of the discounters
Certainly, though, there is an argument that Tesco has to try to do something to halt the march of the discounters. All the signs this year suggest any thought they were running out of steam was misguided: Aldi's market share stood at 6.9% for the 12 weeks to 28 January and Lidl's at 5%, according to last week's Kantar Worldpanel figures.
One of the things that makes this latest twist in the tale so fascinating is the role that Booker could play. Throughout the CMA inquiry into the deal, both Lewis and Wilson made it clear that trying to compete with the discounters was one of the central reasons behind their pact.
So what weapons could Booker bring to the battle? Well, much of Lewis' talk surrounding the merger has centred on Tesco using its excess space to play host to some of Booker's B2B assets.
At around the same time as the crunch vote this month, Booker is to open a Chef Central store-within-a-store at one of Tesco's big sheds in Bar Hill, near Cambridge, which could be a sign of things to come.
But, with Wilson due to take over the UK CEO hotseat, one of his first moves could also be to look at how the wholesaler's buying power could help Tesco match the discounters on more customer-facing everyday discount deals, making use of surplus Tesco space.
In Family Shopper, Booker already has a fascia doing exactly that. And while it currently has fewer than 60 outlets, it is easy to see this number being vastly accelerated.
This would avoid the need for the massive extra expense of building new stores, as Tesco looks at how to move into wholesale without taking its eye off its core supermarket performance.
Whether this will provide enough cheap products on enough scale to have Aldi and Lidl quivering in their boots is another matter altogether.