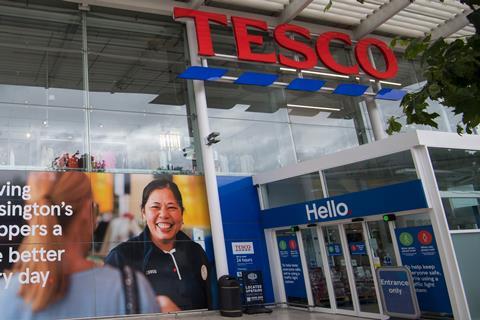 Tesco is to launch a major range review across its entire fresh and packaged food lineup under a new reset programme called Fit for Growth.
The Grocer has learnt the move has been billed as the biggest since the Project Reset cull under Dave Lewis, which began in 2015.
Tesco said it want to achieve "transformational change" in store with most of the reset to come in the second half of the financial year before some due to land in the summer.
Some sources claiming it will be even more sweeping than Lewis' reset, which set out to slash Tesco's range by up to 30%.
However, instead of setting a target for a reduction in the number of SKUs, the new reset is understood to be a "macro level" review of Tesco's entire store food layout. Tesco says non-food is not included in the reset.
A source said: "The difference between this and Project Reset is they indicated it's more of a macro level range review and so in its own way it could be even bigger.
"Whereas Project Reset was about setting a target for reduction of SKUs, this is Tesco looking across the whole store and saying where do we dial things up and where do we have to dial things down.
"It's going to have pretty huge implications for suppliers."
Details of the review emerged at a supplier event staged by the IGD, which brought together hundreds of Tesco suppliers at London's Tobacco Dock.
Transformational
The retailer told suppliers it wanted the review to achieve "transformational change" as well as a simpler supply chain.
"Tesco said this will start in September but I would have thought they will get Christmas out of the way before it lands," said the source. "Then we are likely to see some pretty big changes to stores.
"For example, Tesco acknowledged they are big underperformers in meat and fish, so they will be looking to expand and improve that offer.
"They will be asking questions like, do we really need the bays of eggs when we are struggling to fill them anyway?
"Do we need online fulfilment centres when they are more expensive and online has slowed?
"Fresh is going to get the bulk of the investment, that is quite clear.
"I would have thought that some ambient suppliers will particularly be concerned about what it could mean, but there will be winners and losers across the board."
News of the review comes with suppliers still reeling from a move by Tesco to start charging controversial new fulfilment fees for them using its online and Booker wholesale services.
Opposition
First revealed in a letter to suppliers from chief product officer Ashwin Prasad in March, the bombshell announcement has met huge opposition from suppliers up in arms over a perceived threat to delist those who refused to take part.
Tesco has said the plans will help it shoulder a fair share of the the cost of serving customers online as its digital operations become bigger and more complex. It initially warned suppliers they could face the threat of range reviews or reduced prices if they did not agree to take part.
Tesco has since backtracked and stressed the fees will be entirely voluntary, with the move facing scrutiny from the Groceries Code Adjudicator.
At last week's event, Prasad is understood to have again stressed the voluntary nature of fulfilment fees, but suppliers have expressed fears over the plans being followed by the announcement of a sweeping range review, even though Tesco has insited the two parallel programmes are not connected.
"Ashwin did say several times fulfilment fees are voluntary," said a supplier source.
"However, we and many others keep getting commercial pressure to sign up. At the conference the message was about the range reset.
Efficiencies
"I believe that this is designed to fill any hole that is left by suppliers not signing up for fulfilment fees. It is all about is about end-to-end efficiencies which buyers will identify and then look to recover from suppliers.
"In other words, a not-very-subtle veiled threat."
Another source added: "The message to suppliers was this isn't you it's about us. But of course that's what your girlfriend says right before she dumps you."
Ged Futter, founder of The Retail Mind, said he believed the range review and Tesco's move to attract fulfilment fees were both aimed at the same thing.
"Tesco has clearly identified a gap in its profit forecasts and it intends to fill it, whether that is with fulfilment fees or Fit for Growth," he said.
Futter added that he believed even a retailer as big as Tesco would struggle to achieve a full store reset in a period of six months and said it could take much longer for the review to pan out.
"The changes they are talking about are not something you can achieve in a few months," he said. "Suppliers have been told that this is going to be bigger than Project Reset and that took years."