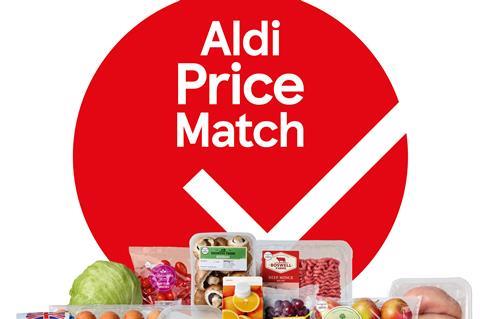 Tesco has ramped up its Aldi Price Match campaign, with more products included than ever before.
The supermarket is currently pledging to price-match Aldi on 669 products, up from 619 on 5 January, according to private label consultancy IPLC, which has been tracking the campaign.
All of the additions are own label, including 12 produce lines, four breakfast cereals, nine canned bean SKUs and seven pasta sauces.
Aldi was the fastest-growing grocer for the fourth month in a row in latest Kantar data, covering the 12 weeks to 22 January. Its sales were 26.9% up year on year, and its market share stood at 9.2%, up from 7.8%.
Tesco's move comes after Sainsbury's also made its Aldi Price Match campaign bigger than ever in January, adding about 70 new lines to take the total to 310. It now stands at 313, according to IPLC partner Paul Stainton.
"An interesting move from Tesco, probably on the back of Sainsbury's increase and Aldi's continuing success throughout the first few weeks of 2023," Stainton said.
"Tesco does not appear to be increasing the number of its value-tier brands, but continues to drop the price of its standard Tesco own label tier to match Aldi. It must be costing it a fair bit of margin."
A Tesco spokesman said: "Our Aldi Price Match range is one the key ways we're helping customers keep down the cost of their weekly shop, giving them great everyday value on hundreds of basics, from bread and beans to yoghurts and sandwich fillers.
"Alongside Aldi Price Match, we've locked the price of more than a thousand household staples until Easter 2023 and we offer exclusive deals and rewards through thousands of Clubcard Prices."
The price locks are part of Tesco's 'Low Everyday Prices' campaign. Loyalty scheme members also get a discount of up to 50% on some lines via the Clubcard Prices scheme.
The supermarket said its number of value lines had significantly increased through its Aldi Price Match, Low Everyday Prices and Clubcard Prices initiatives.