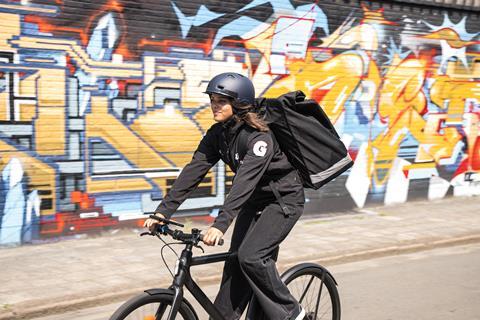 Tesco's partnership with Gorillas, which sees the rapid grocer establish dark stores in the back of superstores, has been extended to Manchester.
From today customers living in the surrounds of Tesco's Stretford Extra store can order from a large range of Tesco products in the Gorillas app, for delivery "within minutes".
It is the first regional launch of the "co-located partnership", following Thornton Heath and Lewisham in London, which began offering rapid deliveries in October last year.
Gorillas said its riders working from those two London stores had "already clocked up nearly 50,000 emissions-free miles" on their e-bikes.
The retailer and rapid grocer will establish "co-located physical warehouses" within a total of five Tesco stores. However, it has hinted at a broader partnership.
Gorillas already has a presence in Manchester, with a dark store serving the Piccadilly and New Islington area of the city.
"Gorillas is able to make use of invaluable regional retail space at a wide-spanning network of stores across the UK, allowing the grocery-on-demand service to further develop its national expansion," the Berlin-based company said.
"This pioneering move will provide Mancunians with well-loved Tesco favourites at their fingertips, from the Gorillas app to the doorstep in minutes," said Christopher Chaaya, general manager UK, Gorillas.
Gorillas has launched more than 200 rapid delivery hubs in nine countries over the last 18 months. It says it fulfilled more than 10 million orders in 2021 alone.
"Through our partnership with Gorillas, we can be even more convenient to our customers, helping them with last-minute Tesco products delivered in minutes," said Tom Hebbert, group innovation director at Tesco. "Customers have responded really well to the first two sites in Thornton Heath and Lewisham and we look forward to bringing this service to our customers in Manchester."
Other supermarkets are working with rapid grocery players to offer their products to customers within around 15 minutes. Deliveroo partnered with Morrisons to provide branded and own-label goods to the dark stores behind its rapid grocery delivery service, Deliveroo Hop, which launched in September last year.
Waitrose is also working with Deliveroo Hop, establishing a Hop delivery-only store in Bermondsey, London, this month.