Gorillas will reap obvious benefits from offering 15-minute Tesco deliveries from dark stores. For Tesco, the business case is slightly more complex
It was a breakthrough moment for rapid delivery start-up Gorillas. Last week it entered a "commercial and real-estate partnership" with the king of the UK grocery jungle: Tesco. It means five Tesco dark stores stocked with its products will be established so orders can be delivered in 15 minutes or less.
The benefits for Gorillas are obvious. The ultra-fast player must continue to expand, and fast, within the hyper-competitive channel. But suitable units are in high demand and seeing "huge" increases in rent, according to real estate consultancy Knight Frank – so using Tesco's estate is a plus.
Meanwhile, rapid players "can't get commercially viable pricing from suppliers to achieve the lofty growth/profit goals they have promised investors" argues Buymie CEO Devan Hughes. "I know why Gorillas wants to do this. But Tesco?"
So what exactly is in the deal for the supermarket?
Tesco is keenly aware of the need for speed. It launched one-hour service Whoosh in May, with Tesco's online MD Chris Poad revealing it was in response to customers "telling us they would welcome the addition" of a speedier option.
Gorillas is a way "to be closer to the customer, who today has more control over the retailer than ever", says Stephan Soroka, COO of courier firm outfitter Wear Your Brand.
Given Gorillas is a faster proposition, it could limit the appeal of Whoosh, which is in partnership with courier firm Stuart. But that could be a concern for Tesco anyway, as timeframes get faster and faster.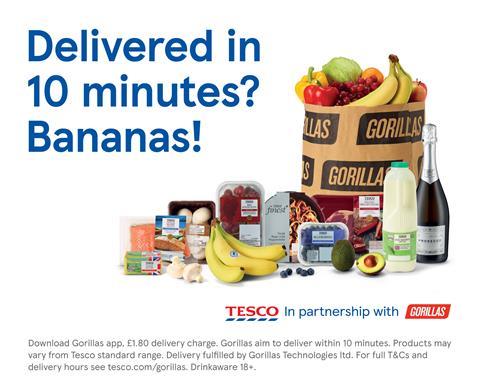 "Retailers are clearly beginning to recognize the growing importance of rapid delivery, and the potential threat of ultra-rapid specialists," says Florence Wright, senior retail insight analyst at Edge by Ascential.
This way, Tesco will gain overnight access to "a ready-made and scalable network of riders and micro-fulfilment centres, as well as existing [Gorillas] shoppers", she adds.
Soroka says Tesco is "simply creating a wider funnel for more customers". With Gorillas, it can provide ultra-fast deliveries via a company that has already mastered how to do it.
"It is actually the best strategy for Tesco," says former Amazon executive Brittain Ladd. "Rapid delivery is more difficult than most grocery retailers anticipate."
The tie-up "eliminates the need for Tesco to invest in duplicating a model that's already been perfected", he adds.
"It all comes down to capability and practicality. Is it really practical for Tesco to attempt to compete against a best-in-class company like Gorillas on rapid delivery?"
It also gives Tesco's leadership team access to Gorillas chief Kagan Sumer, who "understands the potential of rapid grocery delivery better than anyone, and is a valuable resource to Tesco" Ladd says.
There are more practical reasons the deal makes good sense for Tesco. By dedicating space to dark stores, the supermarket is better leveraging the square footage of its estate.
Global retailer & rapid delivery tie-ups
Morrisons and Deliveroo Hop: Deliveroo launched its own ultra-fast delivery service, called Hop, in September. Morrisons serves as wholesaler for the Hop dark store, providing a range of 2,000 branded and own-label goods, including product lines from its The Best and Market Street ranges.
Carrefour and Cajoo/Uber: The French supermarket last month launched 15-minute grocery service Carrefour Sprint. It's accessed via the Uber Eats app, with which Carrefour had an existing deal, and uses dark stores operated by start-up Cajoo, in which Carrefour took a stake in July.
Rewe and Flink: In June, rapid dark store player Flink announced it had raised $240m to expand its business and inked a "strategic partnership" with German supermarket chain Rewe. Rewe later revealed it had taken a minority stake in the Berlin-based rapid delivery business.
Price and data risks
There are risks, though. Tesco could be "diminished to a category in another retailer's [Gorillas] platform" Hughes says. The likely mark-up goes against Tesco's EDLP promise.
There is also the matter of data, as Gorillas gains first-hand insight into Tesco's sales. Snappy Shopper CEO Mike Callachan says there is "a considerable amount of value in the digital customer relationship as a result of that data and insight it provides".
However, "there is no reason to assume Tesco isn't requiring Gorillas to share all data" in return, Ladd says.
There's risk too in handing over the customer relationship to a third party. "But Tesco can control the narrative that Gorillas is a strategic partner of Tesco," Ladd argues.
The partnership is unlikely to be the only rapid delivery option Tesco has explored, with other supermarkets taking a different approach (see above).
For Tesco, which has expressed doubts over ultra-fast delivery, it's a useful testbed. "We are unsure about the economic proposition and we're not entirely sure about what the customer need is," Tesco CEO Ken Murphy said in summer.
While Gorillas is already touting further expansion of the partnership, Wright believes it is essentially "a 'test and learn' initiative that will be scaled only if successful".
If it flops, at the least "Tesco shows that it sees the trends" says Soroka. If it's a hit, the partnership could mark the start of a more significant bond.
"We have seen retailers taking stakes in other rapid delivery players, so this could be an outcome if the partnership proves successful," says Wright.
Ladd similarly sees the potential of such a move. "Tesco acquiring a percentage of Gorillas, or even acquiring the company, is worth assessing after the results of the pilot are analysed," he says.
In which case, Tesco would be first off the mark in a sector where speed is everything.