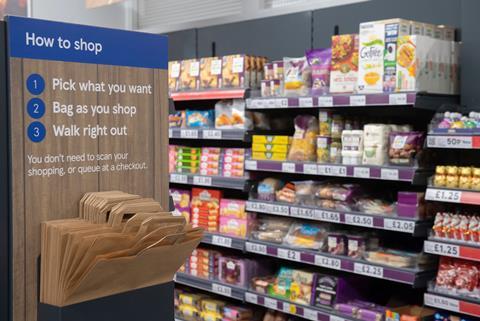 Tesco-backed checkout-free tech firm Trigo is crunching data drawn from its in-store cameras to track inventory in real time and alert retailers to empty shelves.
The Israel-based computer vision company has revealed it is developing a system called EasyStock, which reduces "laborious and often manual inventory management processes, shrinkage, stock taking and replenishment", Trigo said.
"It is the first great example of how computer vision empowers physical stores with the same kinds of insights that e-commerce stores have. This is a level and type of real-time insight that retailers simply don't have today," said Michael Gabay, Trigo's co-founder and CEO.
Trigo would not confirm if Tesco was using the inventory tracker at its checkout-free GetGo store, which opened in High Holborn in October last year, or its colleague store in Welwyn Garden City, which has been in place since 2019. However, Trigo said its existing retail partners – which as well as Tesco include Rewe and Netto in Germany; Aldi Nord in The Netherlands; Wakefern Food in the US; and Shufersal in Israel – were testing the solution.
As well as being able to "limit shoplifting" the solution could also predict imminent out of stocks across a store's estate, the company added.
June data from NielsenIQ found in the UK, supermarkets so far this year have an out of stock rate of 4% of all products. Items that were out of stock were so for an average of four days.
The 4% figure represents approximately £1bn in missed sales, NielsenIQ said.