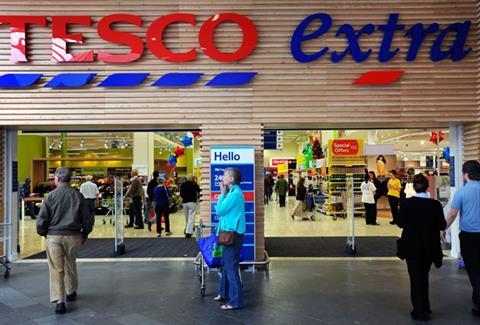 Tesco's out-of-town stores have been hurt by a major shift to online shopping, discount stores and convenience outlets, the retailer admitted today.
Tesco's like-for-like UK sales fell by 2.4% in the six weeks to 4 January. Chief executive Philip Clarke said Tesco had been surprised by the extent of the shift towards online, even though it was a digital pioneer, with its own online sales up 13% over the period.
But the boom in online sales did not fully compensate for the exodus of shoppers from hypermarkets struggling to adapt to the new era, said Clarke, who vowed to continue his plan to remodel larger stores.
"Customers are choosing to shop more locally. We are fortunate in that we have got an excellent store distribution but the changes we're making to our bigger stores are essential. The stores that we have refurbished have performed better than the group. But it's going to take us a few years for the bigger stores," he said.
"The stores that we have refurbished have performed better than the group. But it's going to take us a few years for the bigger stores"

Philip Clarke, Tesco
Tesco also admitted it has been "overly optimistic" on the state of consumer confidence in the UK, which continued to be weak over Christmas, on the back of a bad October and November.
"Our customers are still feeling the pressure," said Clarke, pointing to a growing trend towards shoppers using discounters and convenience stores.
Despite the grim news, Clarke claimed he saw "good progress" in its results, pointing to the rise in online sales, which make up 8% of its total sales.
He said 7% of grocery orders online over the period had been through click & collect, although grocery still lagged well behind GM, where click & collect accounted for 25% of sales, and clothing accounted for 70%.
Clarke also revealed at least 100 of Tesco's larger stores would be downscaled to take in other retail outlets and restaurants, following such moves at stores in the north east and Wales, where space has been leased to outlets such as Sports Direct and cinema chains.
Tesco is also planning to ramp up its rollout of "destination" attractions, such as its Giraffe restaurant chain and Harris+Hoole coffee business.
One bright spot was the retailer's performance on value, with Tesco describing its first-place position in the Grocer 33 Christmas basket challenge as one of its biggest achievements over the period.
Tesco said the award "highlighted the great value available to customers looking to celebrate with their families and friends whilst managing ongoing pressures on their household budgets".
"The Christmas trading period saw the lowest level of inflation in our reported numbers for over three years," it added.
Read this: Are dark stores the future for Tesco? Not necessarily