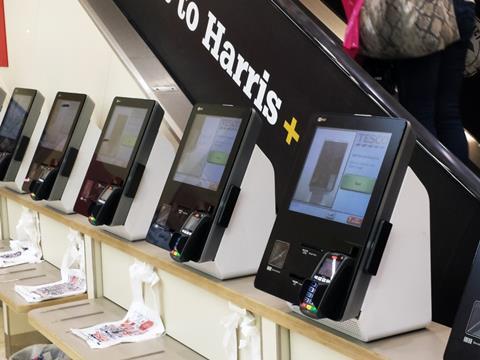 Tesco is looking to reduce queuing time in its stores by using smaller self-service checkouts.

It is trialling new 'slimline tills' at three London stores, and plans a much wider rollout if they are successful. The card-only tills take up half as much room as standard self-service checkouts, allowing Tesco to install more tills at a site and consequently cut queue times.

They were launched this week at Tesco's St Paul's Express, and Metros in Tooley Street and Canary Wharf. Alongside the older self-service tills, they had cut queue times by a quarter and also lopped 15 seconds off average time at the checkouts, it said. Around 80% of transactions in the stores were now self-service.

"These are world exclusives for us," said Tesco London MD Andrew Yaxley. "Service and experience are crucial and that includes getting people through the tills quickly,"

The sites that are piloting the scheme are all 'on-the-move' stores in areas with a large proportion of office workers, many of whom prefer to pay with cards or by contactless transaction, said Yaxley.

It follows the rollout of contactless payments at all of Tesco's London stores - where 24% of its payments are now contactless - and continues its use of London to introduce new technology.

In addition to up to 150 locations in London, Tesco said it could also introduce the slim tills at food-to-go areas in large stores. The tills have been developed by NCR, which created a checkout being trialled by Tesco in Lincoln that scans up to 60 items a minute.