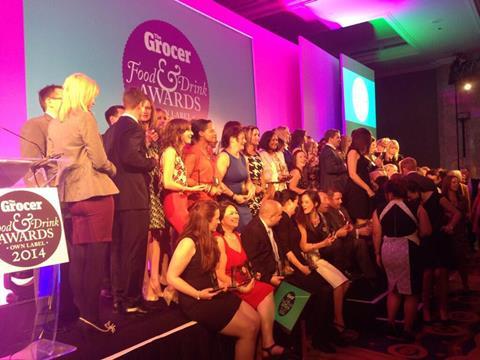 Tesco's relaunched Finest range walked away with almost a third of the top awards at this year's own-label 'Oscars'.

With retailers and suppliers entering a record 1,028 products in The Grocer's 2014 Own-Label Food & Drink Awards ceremony in London yesterday (Friday), Tesco Finest - revamped last autumn - took 22 of the 74 gold awards.

Tesco non-Finest products won another seven golds, giving it a final haul of 29 - 10 more than nearest rival Lidl. The nearest big four rival was Asda, with 13 golds.

The success of Finest reflected the transformation in the retail market, said Paul Beresford, MD of Cambridge Market Research, which carried out the consumer testing phase in our two-stage judging process.

"While consumers are turning to discounters for everyday basics, they still seek out treat-worthy but good-value purchases," he said. "Tesco has clearly found a winning formula for its premium range to compete head-on with Marks & Spencer when quality and excitement matter."

Finest's new look had been particularly successful, with consumers rating the packaging of the winning Finest products significantly higher than other entrants in their categories. The use of provenance and variety in names such as Rannoch Smoked Duck Paté and Coquille St Jacques Scallops encouraged consumers to try lines based on the packaging alone, said Beresford. And new twists on traditional products and flavours - such as a Salted Caramel Sauce and pork, Honey & Fennel sausages - encouraged wary consumers to try without fear of spending on something completely unfamiliar, he added. Finest winners were seen as "new and different" by 67% of consumers, compared with 51% for all other entrants.

Finest lines were also considered good value, with 14 of the winning lines scoring higher than the category average.

"The scale of Tesco's success is a powerful endorsement of the retailer's push for quality," added Beresford.Tesco also broke the record set by Aldi last year, when it won 16 golds. This year Aldi had to satisfy itself with eight gold awards, but it still fared better Sainsbury's (two), The Co-op Group (one), Morrisons (one) and Today's (one).