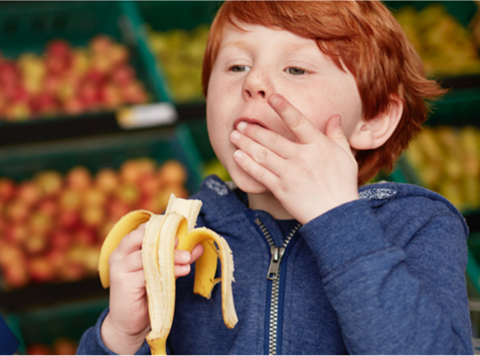 Tesco has given out 20 million pieces of fruit as part of its Free Fruit for Kids initiative since its launch in July last year.

The scheme launched in 801 stores across the UK to help customers "be a little healthier", after a suggestion from customer support assistant Maria Simpson.

Tesco has since handed out more than six-and-a-half million apples, eight million bananas and five-and-a-half million oranges, averaging at 414,000 pieces of fruit a week.

"As the UK's largest greengrocer, and with millions of customers shopping with us every week, we have a unique opportunity to help them live healthier lives," said Matt Davies, Tesco UK CEO.

"Our Free Fruit for Kids initiative plays a really important role in this, helping to create healthy eating habits that will stay with children as they grow up. We're incredibly proud that kids across the UK have already been able to enjoy more than 20 million pieces of free fruit so far."

New research by Tesco and Mumsnet has suggested that a third of parents said their children had eaten more fruit because of the scheme, and three-quarters of parents with at least one child felt the initiative had made shopping trips easier.

More than 1,400 Mumsnet users were surveyed for the research, which also found that nine out of 10 parents felt more positive towards Tesco as a result of the scheme.

"Children love the fruit," said Simpson. "And their parents love that we're promoting a healthier lifestyle. We're helping take away those hunger pangs which children always seem to get the moment they step into a supermarket.

"It used to be just children coming in before or after school who were interested in the fruit - now it's all ages of children at different times of the day. Regular shoppers and their children come straight over to the box for their healthy snack."

Mumsnet CEO and founder Justine Roberts said that helping children get their 5 a day and making shopping less stressful for parents was a "thoughtful move" by Tesco.