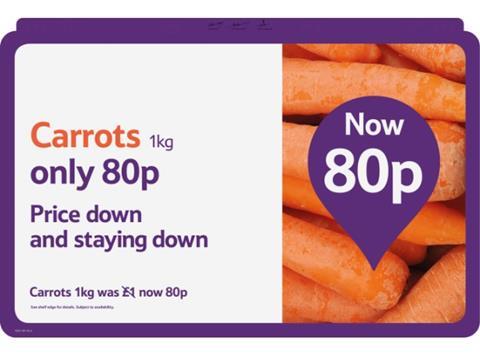 CEO Philip Clarke this week admitted it could take years for Tesco to take on the discounters on price, while analysts suggested rivals would easily shake off its new £200m price offensive.
Tesco this week set out a plan to introduce "sharper" pricing across a range of everyday products, beginning with cuts of about 25% on carrots, cucumbers and peppers.
The retailer is still haunted by the failure of its Big Price Drop, launched in 2011, which was backed by a much heftier £500m budget and financed by a raid on Clubcard rewards.
But the new move, financed by a relaxation in Tesco's historic 5.2% margin target, was needed to stop loyal customers deserting it for certain everyday products at the discounters.
"There are a number of products for which the market prices are much sharper and we feel we need to go sharper too," said Clarke. "It will take us a while to move to this new position. Those who move straight to low prices in a high low market - and this is a high-low market - don't tend to have a great deal of success in the short run. It's a multi-year view. It's not about what happens next month."
Clarke rejected claims Tesco lacked the flexibility to launch a fully fledged price war against the discounters, despite easing its 5.2% profit margin.
When it was suggested Tesco could change to a 0% margin and still not be cheaper than Asda, he said: "I don't know if that is true, but it's not about being cheapest, it's not about being the best quality. It's about having outstanding value."
Shore Capital analyst Clive Black claimed Tesco risked missing an opportunity to become the "shoppers' champion". "We felt Tesco had scope to be more aggressive, taking the opportunity to press harder on the grocery discount channel's price points."
The £200m investment - combined with a clampdown on "frivolous" deals - would "no doubt be featured in the P&Ls of Ocado and Sainsbury's, which price-match Tesco," he added.
Dave McCarthy, head of consumer retail research at HSBC, said: "£200m is half the rate of Asda's recent investment and [Asda announced] another £100m price cuts this week." A Bernstein note added: "If there is no data showing [the] current plan works, why accelerate the plan?"
Asda closes gap on discounters to just 10%
Asda told suppliers this week that it had slashed the price gap between itself and Aldi and Lidl from 20% a year ago to 10%.
At its IGD trade briefing in Harrogate on Wednesday, Asda senior management revealed it had also opened up a bigger price divide with its top four rivals.
With £1bn of price cuts in the pipeline for the next five years, Asda said it would continue to close the gap on the discounters, while extending its lead on price among the big four.
As well as investing in price, it said it had earmarked £250m for improvements in product quality.
Asda also said it would prioritise growing the business online and put more emphasis on events following the success of its Black Friday campaign last year. 
The supermarket's approach was one of "evolution not revolution", said CMO Barry Williams.
Suppliers gave mixed feedback. One said the event was "relatively uninspiring", while another said "what's good is everyone is singing from the same hymn sheet and doing it with real passion and zeal".