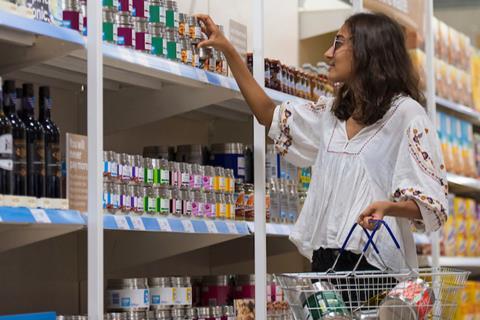 Tesco is launching a refillables aisle across 10 stores, featuring 88 branded and own-label products in reusable and durable packaging.
Customers opting for the reusable-packaged products visit the dedicated fixture and add products as usual to their baskets. The range, launched in collaboration with reusable packaging platform Loop, is prefilled in "the perfect container for that product", so there's no requirement for customers to bring their own containers or refill packs themselves.
A fully refundable deposit starting at 20p is paid on each reusable product at checkout, which is refunded via an app when the customer returns the packaging to a collection point in the store.
The empty containers are cleaned by EcoLab "to stringent health and safety standards" for reuse, and returned to the manufacturers to refill. DHL is supporting Loop's warehousing, fulfilment and returned deposit scanning and delivering cleaned containers back to brands.
Prices for the contents of each item are comparable to standard variants, Tesco said.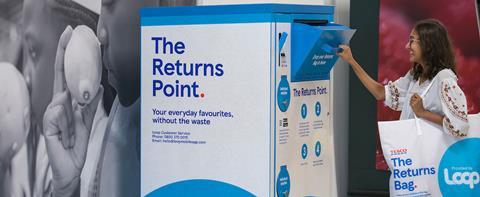 "We are determined to tackle plastic waste and one of the ways we can help is by improving reuse options available to customers," said Tesco Group CEO Ken Murphy. "Bringing Loop to our stores is a significant milestone in this journey. With 88 everyday products available, we're giving customers a wide range of options and we'll learn as much as we can from this to inform our future packaging plans."
Murphy said reusable schemes were "without a doubt difficult" and "not commonplace right now". He added that the 10 store proof of concept trial would hopefully "create a template to be rolled out more widely".
Among the numerous brands in the range are Simple, Bisto, Radox, Silver Spoon, Original Source, Sipsmith, Ecover, Fever-Tree, Alberto Balsam, Persil, Naked noodles, Meridian, Hardys, Good4U, Bull Dog, Coca-Cola, BrewDog, Dr Will's, Finish, Heinz, Mackays, Mud House, Tetley, Quaker Oats and Carex.

Tesco has also included 35 own-brand essentials in the range, such as pasta, rice, oil and sugar, "with even more products set to be added to the range throughout the year".
Tesco's Loop in-store rollout boasts the widest range of Loop products launched in any supermarket globally.
The in-store Loop initiative follows an online launch with Tesco in July last year. Online customers can put their resuable containers back in the tote they arrived in, and either drop it off at one of 2,500 DPD collection points across the UK or request it be picked up by Loop, either on demand or at the time of the next delivery. Similarly, Loop-operated online initiatives are live with Walgreens and Kroger in the US and Carrefour in France.
Carrefour launched Loop aisles in several stores in France late last year, with a broader rollout underway.
Tesco said it had "plans to scale further" if the 10-store rollout proved successful.
The environmental impact of switching just three items of the weekly shop "could be enormous" the supermarket said.
"If customers in the 10 stores switched their recyclable tomato ketchup, cola and washing-up liquid bottles to the reusable Heinz Tomato Ketchup, Coca-Cola and Ecover alternatives, the packaging would be used and reused more than two-and-a-half million times a year," a spokeswoman said.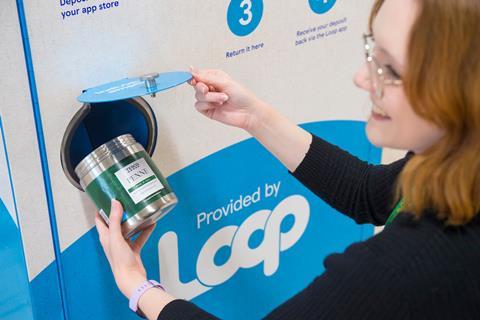 Customers at the 10 stores will be encouraged to include Loop products in their shop, with Loop Ambassadors on hand to explain how it works.
"The consumer reaction to Loop in these first Tesco stores will prove pivotal in refining the Loop offering and ultimately we hope to scale reuse across more stores and the number of product lines available," said Tom Szaky, founder and CEO of Loop and TerraCycle.
"Tesco is the perfect partner to bring Loop to retail in the UK due to its commitment to sustainability, in combating plastics waste and in its operational scale as the UK's biggest grocery retailer," he added.
The 10 Tesco stores launching Loop aisles this week are: Milton Keynes Kingston, Northampton South, Cambridge Newmarket Road, Wellingborough, Milton Keynes Wolverton, Evesham, Leicester Hamilton, Stratford Upon Avon, Ashby De La Zouch and Loughborough Rushes.