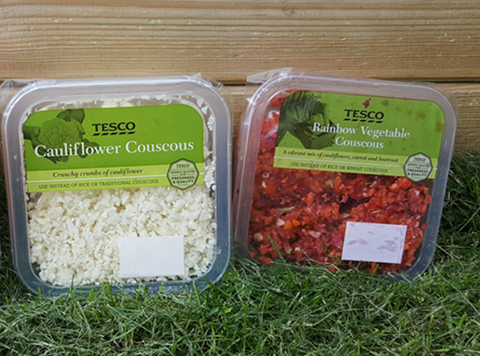 Tesco has given its fresh fruit & veg aisles a shakeup with a range of new prepared product lines as demand for healthy options surges.

The retailer has added a raft of new prepared veg, fruit and salad SKUs, including mushroom & beetroot burgers, potato wedges with Japanese katsu dip & quinoa, and fajita mix with peppers and onions.

The fruit & veg aisle had become "the first destination shoppers will head to find innovative and delicious new meals if they are pressed for time and looking for fresh food they can cook quickly" said Tesco produce buyer Elizabeth Hall.

Indeed, demand for products of this kind had surged by 10% over the past two years, Tesco said, with sales of spiralised vegetables such as courgettes up 40%, edamame bean salads up 100%, organic prepared salads up nearly 90% and healthy fruit snacks such as mango fingers up 400%.

"These tempting new fresh fruit and veg food are not only offering shoppers a far wider choice in healthy, nutritious meals but are also helping tackle food waste through greater crop utilisation," said Hall. "Healthy foods such as butternut fusilli and butternut lasagne sheets are meeting the needs of customers wanting to cut down on carbs and look after themselves through simple alternatives."

For instance, cauliflowers too small to sell on their own had now been used to make cauliflower cous cous, and "wonky" carrots had been used for carrot spaghetti, both of which were "healthier alternatives" to carb-heavy dishes.

Tesco has also ditched a number of prepared vegetable SKUs since the spring, research by The Grocer reveals. It binned nine of its own-label prepared veg lines, including beetroot & fine bean medley, Mediterranean grains, roast sprouts with parmesan, and tandoori vegetable bake packs [Brand View 52 w/e 14 August 2017].

Numerous prepared salads also got the chop, including seared chicken and cauliflower cous cous, cheddar & bacon potato salad, and Mediterranean chickpea salad packs.

A spokeswoman said the delistings were part of "range changes in the produce aisle that use seasonal produce when it is at its best".