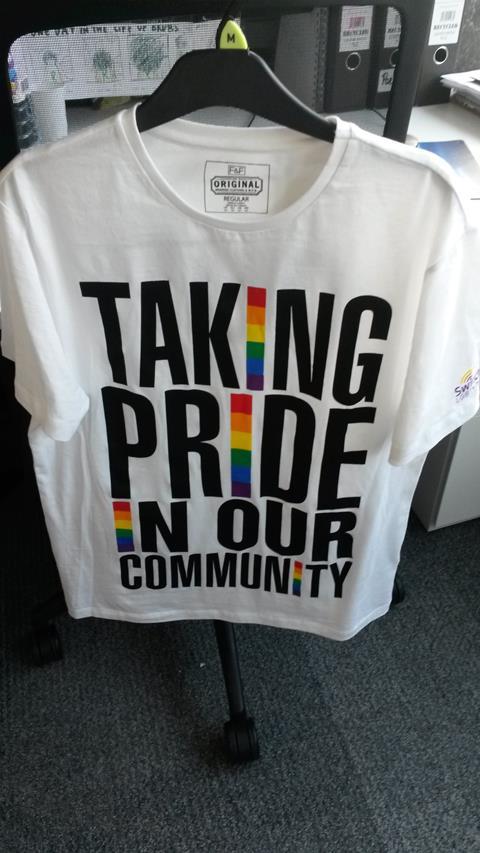 Tesco has launched a range of F+F Pride t-shirts, to support its sponsorship of Europe's biggest LGBT event on Saturday 27 June.
The clothing will be sold in 15 stores along the parade route in London and is also available online for £6, with £1 of every purchase going to the with LGBT Switchboard charity.
Around 250,000 people are expected to visit the event, with 30,000 people taking part in last year's parade itself.
Tesco will hold a pre-Pride event at its Regent Street and Convent Garden Metro stores on Saturday 20 June which will see performances from the London Gay Men's Chorus. Customers will be given a glass of Lanson pink Champagne and Tesco Pride branded M&Ms.
The retailer will also be handing out the Tesco Pride M&Ms to commuters on their way to work outside Piccadilly Station the day before the march and it will have a 40ft Tesco distribution delivery truck in the parade route, rebranded as a Supermarket Disco.
"We are absolutely delighted to be supporting such a fun and vibrant event as this year's Pride in London, said John Dickinson, Head of Out at Tesco's Network.
"Myself and some of the Out at Tesco team will be dancing on our very own Supermarket Disco-themed float and fifteen stores along the Parade route will also be getting into the spirit of Pride with special Pride-themed signs and Pride-themed bunting and carrier bags."