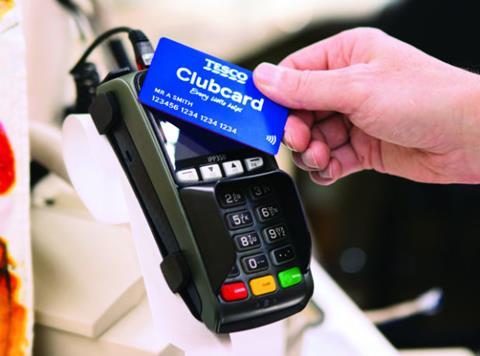 Tesco is relaunching its famous Clubcard with a brand-new look and contactless technology, which it claims will save customers time at the checkouts and enable them to get more from the loyalty scheme.
Tesco is also introducing a raft of new commercial partners to the scheme as part of the overhaul, most notably taxi firm Uber.
The retailer said the makeover would make shopping simpler for customers and would also see major improvements to the Tesco Clubcard app. Changes include the launch of a new, dark blue contactless Clubcard, which enables customers to tap at the checkout to earn points.
"We've listened to customers and we're delighted to have made Clubcard even simpler and easier to use"

Tesco chief customer officer Alessandra Bellini
The new cards will be sent to staff on today (5 July) before being be posted out to the more than 17 million Clubcard users at the end of the week. It will replace the old light blue and red design, which customers currently have to swipe at the till before paying for their shopping.
Tesco is also rolling out what it said were significant improvements to the Tesco Clubcard app. New customers can now use it to sign up to Clubcard straight away, while they shop in store, while existing customers will be able to access their vouchers at the checkout, at the touch of a button.
However, Tesco said Clubcard customers would still receive the old-style paper coupons, as these were still preferred by some of its loyalty card holders.
Partnership with Uber
The new Clubcard also sees Tesco introduce new commercial partners to the scheme, including a tie-up with taxi firm Uber. Other new partners include Hotels.com
Last month The Grocer revealed Tesco was at the centre of an online campaign by taxi drivers amid speculation of it going into partnership with Uber. The retailer will allow Clubcard users to use their points from shopping to pay for journeys using the Uber app, but cab drivers have been running a campaign threatening to boycott the retailer.
Tesco is also lowering the deals threshold level for Tesco Clubcard Reward Partners, which will allow customers to increase the value of their vouchers from as little as 50p, to make them " more accessible."
The Clubcard relaunch follows significant changes to Tesco's loyalty scheme strategy that came into place in April last year, when it replaced Clubcard Boost events with more regular promotions including double points on the card.
Up until September 2011, Tesco consistently offered double Clubcard points, but this was ditched in favour of its much-maligned £500m Big Price Drop scheme, which was supposed to signal a move to more everyday low prices.
But under CEO Dave Lewis Tesco has sought again to re-define the card and make more use of its digital capacity.
When the new Clubard is introduced in stores, Tesco will have 2,500 Clubcard Champions on hand to help customers with questions about the changes.
Chief customer officer Alessandra Bellini said: "Tesco Clubcard is one of the most uniquely helpful things we do and it's our way of saying thank you to our customers for shopping with us.
"We've listened to customers and we're delighted to have made Clubcard even simpler and easier to use, introducing a brand new contactless card, an upgraded Clubcard app, and added to our list of partners too.
"Clubcard is the most rewarding loyalty scheme in the sector and we're looking forward to seeing how customers respond to the improvements."