9 Jan 2014: Tesco admits its out-of-town stores have been hurt by a major shift to online shopping. Its like-for-like UK sales fell by 2.4% in the six weeks to 4 January.

25 Feb: Tesco accelerates its store refresh programme in preparation of price cuts. A £200m investment into lowering prices is announced.
1 March: CEO Philip Clarke admits it could take years for Tesco to match discounters on price.

30 March: Attempts are made to calm staff fears of major redundancies as restructure is planned.

4 April: Chief finance officer Laurie McIlwee announces his resignation .

6 April: Staff backlash over plans to "shake up" in-store management.

16 April: The price war will be stepped up against supermarket rivals, Tesco announces as group profits drop 6%. Meanwhile, plans are in the pipeline to open more than 100 Giraffe, Decks and Harris+Hooles outlets as part of it store turnaround programme .
4 June: Tesco blames impact of price cuts and accelerated store revamp programme for third successive fall in sales, in its Q1 results.

27 June: Shareholders are told a price war would be a "strategy of decline" at the retailer's agm.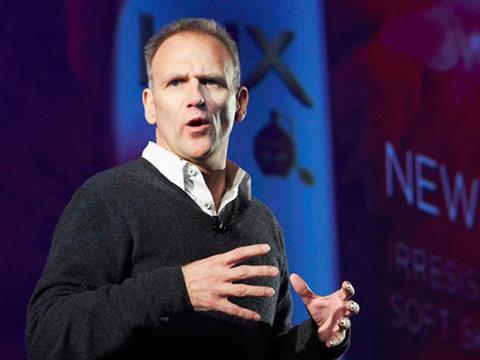 21 July: Tesco announces CEO Philip Clarke will step down after failing to turn around the company's fortunes. His replacement will be Dave Lewis of Unilever.

29 Aug: Tesco issues shock profit warning and cuts interim dividend , blaming "challenging trading conditions", and announces a slowing of its store refresh programme. Dave Lewis' start as CEO is brought forward by one month.
1 Sep: Dave Lewis begins his tenure as Tesco boss by vowing to return the brand to being the "customers' champion" once more.

20 Sep: Dave Lewis tells store managers to put more staff on shop floor .
22 Sep: Crisis as profit hole of £250m is discovered . Four senior managers including UK MD Chris Bush asked to step aside while investigation is carried out by Deloitte. Head of online operations Robin Terell made acting UK MD.

23 Sep: New chief financial officer Alan Stewart joins Tesco from M&S a month early.
24 Sep: Tesco begins boarding up new stores under development with the hope it will slash capital expenditure. UK accountancy watchdog FRC says it is closely monitoring Tesco's handling of financial crisis to decide whether intervention is necessary.
25 Sep: Tesco admits it has effectively been without a director in charge of finance for the past five months.
30 Sep: Groceries Code adjudicator Christine Tacon asks Tesco to look for past code breaches as part of its internal investigation.
1 Oct: The Times reports Tesco is putting Blinkbox up for sale after failing to turn a profit. Dave Lewis orders HQ staff back to the shop floor . Meanwhile, the Financial Conduct Authority announces it is launching its own investigation into the £250m hole in the company's accounts.
6 Oct: Tesco announces two new non-exec appointments to its board.
7 Oct: Group commercial director Kevin Grace becomes the fifth executive asked to step down in the wake of profit-hole investigation.

13 Oct: Tesco announces its company secretary Jonathan Lloyd is to leave for a job elsewhere.

14 Oct: Tesco asks three more executives to step aside.
23 Oct: Tesco confirms a profit hole of £263m in its delayed interim results. Chairman Sir Richard Broadbent announces plans to step down. The Deloitte report into the accounting fiasco is passed to the FCA.

29 Oct: The Serious Fraud Office takes over responsibility for the probe into the accounting scandal.
25 Nov: Bentham Europe, a leading litigation funder, announces a fund has been set up to take legal action on behalf of Tesco shareholders.
28 Nov: Three Tesco executives asked to step aside during the investigation into the £263m accounting scandal reportedly leave the retailer.

1 December: Lewis takes over temporary responsiblity for Tesco's UK operations, as he unveils a shake-up of the senior management team, including the appointment of Robin Terrell to the new role of head of customer.