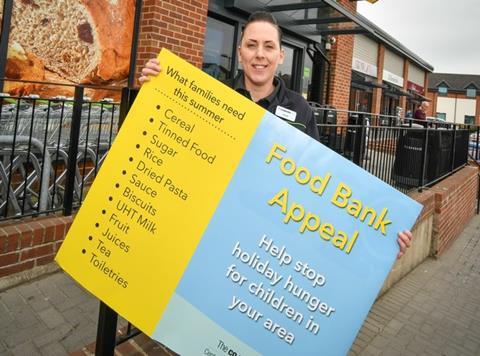 The Central England Co-operative has launched a summer food bank appeal to help 400,000 children and families.

The society has installed food bank collection points at more than 400 stores for the next three months, as more than 85% of its food bank partners reported surging demand from struggling families over the school holidays.

Items collected will be distributed to the Co-op's 50 food bank partners and families in need. They will be used to create either bigger food parcels for families with children, or packed lunches for charitable projects. The move comes as figures from End Child Poverty reveal that more than 400,000 children are at risk of falling into 'holiday hunger' due to poverty this summer.

The retailer's customers are being asked to donate one or more grocery item after their shop for the cause.
Similar initiatives Co-op ran over the Christmas and Easter breaks generated more than 85,000 items for food banks, and it has permanent food bank collection points in hundreds of its stores.

"We are proud to be able to support our food banks all year round and in the past few months have helped collect over 85,000 items to help people in need," said Martyn Cheatle, chief executive of the Central England Co-operative. "We wanted to ensure this great support continued and, after speaking to our food bank partners, know that helping to tackle holiday hunger is the right thing to do. This summer we are appealing to our customers and members to support our campaign and help youngsters in need and their families so they don't have to go without during the holidays."

Anna Feuchtwang, chairman of End Child Poverty, added: "Food banks are now critical sources of support and without urgent action increasing numbers of families will be reliant on the generosity of the public to feed their children."