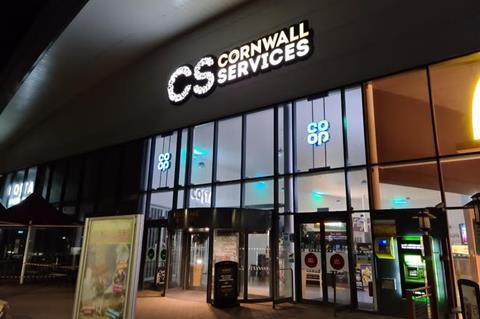 The Co-op has set out to double its franchise estate to 30 stores by the end of the year.
The retailer told The Grocer that five stores will be opening in the next six weeks, including its first-ever franchise store at a service station opening today.
The 2,000 sq ft Co-op Cornwall Services store will offer an extensive food-to-go range, hot and cold sandwiches, snacks, chilled drinks, pastries from the in-store bakery and Co-op's Ever Ground Fairtrade coffee.
"It is a real example of how franchise can extend the Co-op's reach and gets Co-op into a space where it has never been before," said Co-op head of new channels Martin Rogers.
"It's a good time particularly with the staycation boom where people will be spending time in the UK holidaying."
Other stores that are due to open include a "healthy pipeline" of stores in universities, neighbourhoods, and city centres, which the retailer will be revealing in the coming weeks.
"The agility of the franchise models allows us to open Co-ops where we wouldn't ordinarily be able to," Rogers added. "It's like-minded parties getting together to generate incremental value and do something that neither side can do on their own.
"It's a unique opportunity, and a unique proposition."
The convenience retailer currently operates six franchise stores on university campuses as well as three with Nisa partners, its first franchise partnership with a catering business, Gather & Gather, and four Costcutter company-owned stores.
"Across the sector, there are great stories about how retailers have stepped up to support the communities, and that's the same with franchise," Rogers said. "We couldn't be prouder of the work they've done."
The Co-op was recently upgraded to an associate member of the British Franchise Association.
The BFA is a voluntary self-regulatory body for the UK franchise industry and is responsible for setting high-quality standards of franchising across the UK.
It carried out a stringent analysis of the Co-op model, including a forensic review of the commercial performance of trading sites and an extensive franchisee feedback questionnaire, providing potential franchise partners with the reassurance that the model worked, the retailer said.
"We are delighted to have become a BFA associated member and it's testament to our successful franchise business model and the lengths we go to in order to provide support for our partners.
"Our franchise offering has gone from strength to strength over the last few years as we continue to bring people together.
"Our expertise and learnings in this area are helping us access new markets and are fantastic examples of how we're reaching new locations all over the country."