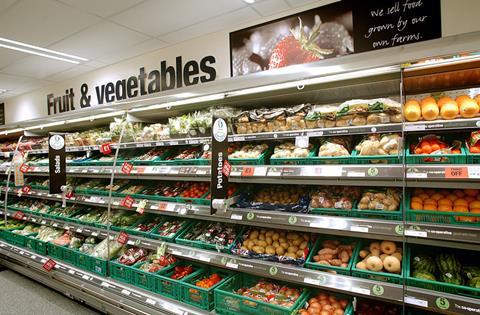 The Co-operative Food claims its fruit and veg price cuts have driven almost 10% sales growth across its fresh produce range.
The retailer launched its 'Fresh Three' initiative - a revolving promotion offering approximately half-price on three products every three weeks – on 17 June. It also introduced permanent discounts on more than 100 fresh produce lines across its 2,800 UK stores.
The retailer claimed sales volumes of the initial 'Fresh Three' – lettuce, carrots and cucumber priced at 39p - rocketed by 130% over the three-week period. Sales volumes across the fresh produce category rose by 9.4% over the same period, it added.
"Our investment in the freshness, quality and price of fresh produce is bearing fruit," said chief executive Steve Murrells, who confirmed the next 'Fresh Three' offer would see the price of plums (400g), oranges (4s) and peaches (4/5s) reduced to 69p in stores.
The Co-op's fruit and vegetable cuts are part of a wider £125m price investment by the retailer, which has also slashed the cost of everyday staple products such as eggs, chicken, bacon and bread.
"We are responding to the changing habits of consumers who are increasingly swapping the weekly shop for purchasing what they need, when they need it, locally," said Murrells. "We have a store in every postal area, and we are continuing to invest in transforming the in-store experience, while also lowering the price of everyday essentials."