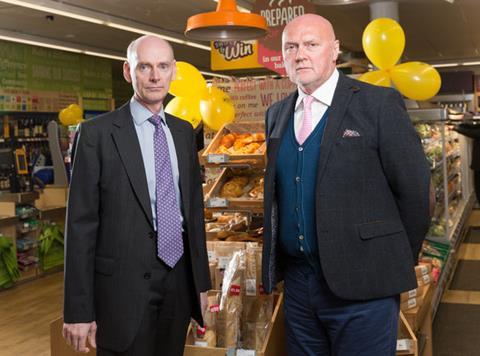 The Co-operative Group's food business has reported a 0.4% increase in full-year like-for-like sales.
Total food sales fell from £7.24bn to £7.09bn in the year to 3 January, due to its continued disposal of larger stores and falling fuel prices.
However, underlying operating profits rose 1.5% to £251m thanks to the society's ongoing True North strategy which saw it make cost savings of £93m.
The society said it had seen early success from True North, with like-for-like sales in its core convenience estate up 3.2%. Through True North it has improved stores, product ranges, availability, prices and customer service.
During the year it said it had lowered prices across 40 categories and the price of many products had fallen by as much as 20%. It added it would continue to roll out its price programme during 2015 across remaining categories.
The Co-op also said it acquired 82 c-stores during 2014, taking its estate to 2,079 sites. It also sold 37 larger stores, leaving it with 717 supermarkets. Some 336 stores were refitted to its new generation two format.
The Co-op's total business recorded group sales of £9.4bn, down from £9.7bn in 2013 following a number of disposals including its farming and pharmacy businesses. It also reversed last year's £2.3bn loss to a net profit of £216m. Net debt was reduced from £1.4bn in 2013 to £808m, which the society described as a "significant improvement".
"A significant element of our 2014 profit relates to one-off disposal gains on the sale of our farms and pharmacy businesses and property disposals," said The Co-op Group CEO Richard Pennycook. "Without these we would, at best, have broken even."
He also confirmed the society would again not be paying a dividend to its members "given the need to invest in all our businesses".
Pennycook stressed the work of rebuilding The Co-op was "far more than just another commercial turnaround".
"In 2014 we took the necessary first steps to repair the damage and we are now set firmly on a journey of recovery," he said.
"We have repaired our balance sheet, met our commitments to The Co-operative Bank and begun the implementation of fundamental governance reforms. There will be no quick fixes though, and it will take at least three years to rebuild the Co-operative, to a position where we can promise sustainable ongoing growth.
"Embedding our new constitution will run alongside this. The reassurance we can give to our members is that we are now fully engaged in the work of rebuilding an iconic and much loved organisation."
Pennycook also said the society planned to relaunch its membership proposition to "contain compelling and clear benefits that only a co-operative can provide".
Only 2.9 million of its eight million members had traded sufficiently enough with the society to vote at its upcoming agm, he said, because "our activities are not meaningful enough to resonate with the vast majority of members."
"We need more members engaging with us at all levels, whether through trade, community activities or the democratic process. Otherwise, we cease to be relevant," Pennycook warned.