The heatwave of 2013 helped send ice cream sales flying, yet the UK still gets through much less ice cream than its neighbours in Europe. How can it catch up, whatever the weather?
The Irish have a reputation as dairy lovers. Ice cream is no exception. Indeed, they consume two and a half times the individually wrapped ice creams as the British.
"Brits have an archetypal history of eating ice cream yet Ireland has the highest per capita consumption in Europe despite having the same media and Western culture as the UK," says Unilever's ice cream brand building director Noel Clarke.
Britain's poor showing in handheld ice cream (Unilever puts it at 17th in its list of top European markets – see right) doesn't mean shoppers are shying away from it.
In fact, total value sales have surged 10.1% to £864m on volumes up 7.3% [Kantar 52 w/e 22 June 2014], and more than 80% of Brits eat ice cream each year. Of course, when the sun shines ice cream sales rise, and the hot summer of 2013 clearly had a hand in the UK's growth.
But the weather is just one factor; Ireland is hardly famed for its balmy summers after all. The UK's comparatively poor performance suggests suppliers and retailers could be missing a trick – but it also points to tremendous opportunities for growth.
So what will it take for the UK to catch up? And can more be done to reduce reliance on the weather for growth?
Weather aside, NPD has been central to growth. Particularly from the market's two giants: R&R has launched Kit Kat and Cream Egg Cones and Oreo Sandwiches as well as developing new own-label lines for the mults recently; Unilever has launched new Cornetto, Magnum and Solero variants.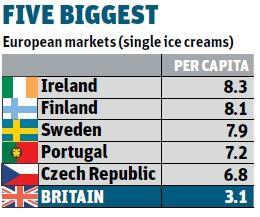 There's a physical barrier to growth, however. "The UK has the third lowest freezer density in Europe whereas Ireland has the highest," says Clarke. "In Europe the frozen aisle also comes earlier in the supermarket than it does in the UK." To help close the gap, Unilever has increased its sales team to encourage retailers to put freezers, branded bins and flags at the front of UK stores this year.
There's also work to be done in encouraging Brits to enjoy ice cream at a wider range of occasions, not just when the sun is shining. "The weather is the one thing you can't control," R&R CEO Ibrahim Najafi told The Grocer earlier this year, adding that in Europe ice cream is much more of a year-round affair. Making it more so here in the UK is now a major focus for the company.
Dessert
On the Continent, ice cream is seen very much as a staple dessert. To get the UK to think of ice cream as a regular dessert option, Unilever is pushing its Carte D'Or Gelateria, a "standalone dessert" in flavours such as crema di mascarpone and caffe latte. The company says the NPD has generated £4.5m in retail sales since launch in April and has helped boost the brand's value by 5.7% on volumes up 9.4% [IRI 52 w/e 21 June 2014]. Clarke says this has partly been achieved by boosting ad spend by 50% over the past year.
Smaller players are also pushing ice cream as a dessert. For example, Italian gelato brand Joe Delucci's reports growing sales of the four lines it sells through Tesco. "The popularity of gelato has reached an all-time high," contends co-founder Richard Pierce.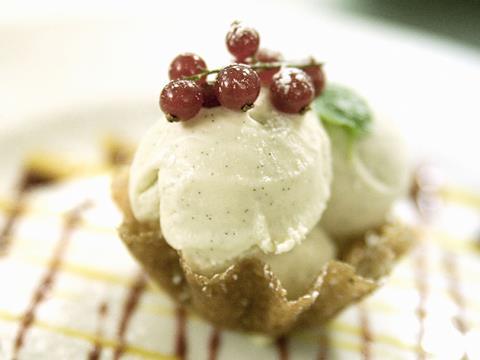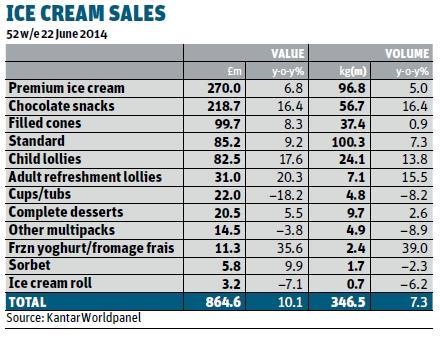 Andrew Howard, MD of Beechdean Ice Cream Group, which owns the Beechdean and Losely brands of ice cream, agrees there's great potential in pushing ice cream as a dessert. But he warns there's one key obstacle standing in the way of getting UK shoppers to view ice cream as a regular dessert option instead of an impulse buy: in the past year 46.3% of ice cream was sold on deal [Kantar].
"The UK market still views ice cream as an impulse treat and this is driven by our discount culture," says Howard. But he's still confident Beechdean can succeed in commanding more freezer space, despite not having the financial clout of the likes of Unilever or R&R.
High-profile licensing deals, including for TV characters such as The Simpsons and Scooby-Doo, are a big strategic focus. Having only recently moved into licensed ice creams, Beechdean has already won Odeon cinema listings for its Simpsons strawberry split and bubblegum and Jelly Belly orange lollies. Butlins stocks its Scooby-Doo range.
Now the company has its sights set on an entirely new consumer segment: it is in talks with "a big drinks company" to take the lolly market into winter with an alcoholic stick in time for Christmas. "For a product to be a success it needs a unique selling point, such as alcohol content, and a brand identity consumers trust," says Howard.
Fighting for year-round freezer space isn't the only challenge facing brands. With premium ice cream commanding the largest share of the UK market in value, accounting for 31.2% [Kantar], and own-label value sales up 6.1% for tubs and 14.8% for handheld sticks, on volumes up 2.4% and 11.6% respectively [IRI], the mults are moving in with equally indulgent but cheaper offerings.
Tesco added mascarpone gelato and mandarin sorbetto flavours to its Finest range in March, and Waitrose, which has grown its share of the market by six percentage points since 2012 [Kantar], says its Seriously Creamy and Seriously Gelato ranges of own-label ice cream have become its bestsellers.
Own label
In July, the retailer added a Florentine biscuit-inspired ice cream to its Heston from Waitrose range with a brand-busting introductory offer of just £2.99 for 500ml. And in May Sainsbury's launched a campaign encouraging shoppers to buy own-label versions of their favourite brands. The drive included By Sainsbury's chocolate brownie ice cream for £2, versus Ben & Jerry's blondie brownie ice cream for £2.50.
All this means brands can expect some serious competition when trying to persuade British shoppers to eat ice cream more often – the mults' activity over the past year shows additional consumption won't necessarily benefit the big brands.
"The difference is execution. The UK has the third lowest freezer density in Europe, Ireland the highest"
In light of supermarket price wars, suppliers also know they need to keep a keen eye on affordability. This is especially true of tubs: although the average price per litre of ice cream has risen from £2.43 to £2.50 in the past year, the average price of pint-sized tubs has dropped from £5.17 to £4.61, more than any other subcategory [Kantar].
Innovation should help brands counter some of the price pressure. Unilever says it plans to "borrow" products from its European portfolio for UK launch in the next 12 months, while R&R says it is looking to take products from its growing overseas reach and apply them to the UK. The company will bring French ice cream yule logs to these shore for the second year running this December.
But retailers also have their part to play in driving consumption, suppliers argue. It all comes back to freezer space. "In the UK retailers are constantly reducing freezer space," says Howard. "If we've only got enough room for the top 20 lines in the UK, how can we explore other options?"