When it comes to yoghurt, bigger is still better. While the overall category has enjoyed only modest value sales growth of 1.1% on volumes up 2.3%, sales of plain and fruity big pots have surged 11.7% and 11.0% respectively, with volumes also up by double digits [Kantar Worldpanel 52 w/e 22 May 2016].

So what is driving consumer hunger for supersized yoghurts? What other trends are influencing the market? And how are retailers adapting their fixtures to meet changing tastes?

With health a macro trend that's not going away, most brands agree the simple association between big pots and breakfast - perceived as the healthiest meal of the day - is part of what is powering the big pot phenomenon. But there are other crucial factors too.

"Yoghurt is no longer seen as a small one-pot snack," says Lancashire Farm MD Azhar Zouq. "It is increasingly being used as an everyday ingredient to enhance the flavour of dishes, and this perception change has helped to drive sales. We've seen an increase of 14.4% in big pot."

When it comes to cooking, plain yoghurt is clearly the most versatile. Onken, which claims to have pioneered the big pot category in the early 1990s, says its natural products - and particularly set yoghurt - have the most committed customer base.

"Our natural set product is a unique branded proposition within the category and has unique qualities for cooking - it doesn't split at temperature, which is a huge benefit for recipes like curries," says Laura Grove, head of marketing at Onken owner Emmi UK.
Müller sets out vision for adding £230m to category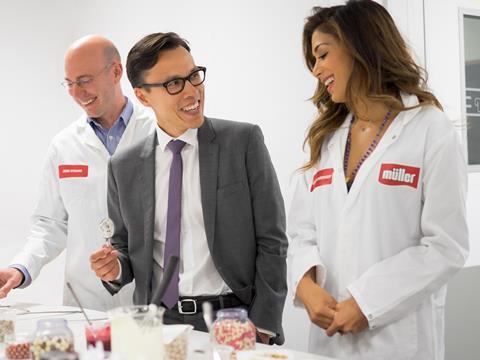 The chilled yoghurts and potted desserts category (CYPD) is bigger than biscuits, crisps and ice cream - with most Brits buying into the category 40 times a year.
But Müller, which holds the biggest share (22.3%) according to Nielsen, believes there is scope to make it even bigger.
This month, the German dairy giant unveiled its category vision for yoghurts and potted desserts, which identifies a potential growth of £230m (+8%) for the category by 2019.
Based on interviews with thousands of shoppers, Müller's new category vision identifies key trends and growth areas, and outlines how Müller plans to take advantage of them in order to grow both its own brand and the category as a whole.
"Our aim is to increase consumption overall to ensure that everyone wins - consumers, customers, Müller and the farmers that supply us," says Bill Mathieson, Müller yoghurt & desserts commercial director.
"To that end, our robust new category vision is designed to enable us to drive the growth of the category as a whole, as well as our individual branded and private-label share.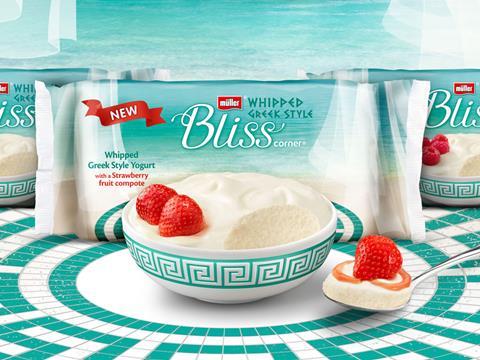 "Increasing consumption across the board should be on everyone's agenda."
Brits eat much less yoghurt than consumers in Europe, and the category vision identifies growth opportunities around health, indulgence new and innovative formats, snacking and simplifying the yoghurt fixture.
With this in mind, Müller's key objectives going forward include addressing the health needs of consumers; linking yoghurt to complementary categories such as fruit and granola; tapping into the "dairy goodness" mindset to capitalise on macro health trends; tapping snacking occasions; challenging the decline in pots per trip by launching bigger pack sizes; redefining luxury and desserts, including "dialling up the permissibility of dessert options" through innovation; and working with retailers to make sure the yoghurt category is easier for shoppers to navigate.
"Our category vision identifies a definite need for new and innovative formats and touchpoints, but also the opportunity to work together with customers to simplify the fixture and overall shopping experience, creating value through events in stores beyond just pricing, and to unlock consumption via innovative shopper-based design," says Mathieson.
Even bigger

With this in mind, Onken is now going even bigger with its innovation. "We launched a 1kg natural set in July," says Grove, "1kg as a subcategory in natural and flavoured is quite a fast growing area because of the fantastic value we can offer shoppers with the 1kg product size."

The Collective Dairy has also seen huge success across its 450g big pot range - which includes fruit-layered, dessert-influenced luxury and plain variants. "The big tubs are performing really well at 65% up on value," says director Amelia Harvey. "That's due to distribution increases and incremental value in terms of units per store per week growing organically."

Earlier this year, The Collective reintroduced its special-edition Coffee yoghurt and brought out a Choccy Orange variant, which joined Russian Fudge to make a trio of luxury big pot products aimed at exploiting the sharing dessert occasion. "Big pots are good value. Yoghurt is an affordable way to fill the family, and it's an interactive, sharing way of having a family occasion," says Harvey.

Big pots are made even better value by the fact they are still being promoted on multibuys, adds Kantar analyst Hannah Libot, who notes prominent y- for-£x deals have resulted in strong value growth for Yeo Valley (+16.3%) and Onken (+9%).

Hamish Renton, MD of HRA Food & Drink Consultants, says promotions on big pots remain common, despite the yoghurt category following grocery's general shift away from multibuys and towards temporary price reductions and everyday low price. Louise Hagger, Arla yoghurt brand manager, agrees. "Asda, for example, are increasing TPRs and reducing multibuys, but they are keeping multibuys where they work - as in big pots, where you might be buying one or two for the family."
TAKE-HOME SALES: YOGHURTS
52 w/e 22 May 16
Value
Volume
£(m)
y-o-y%
kg(m)
y-o-y%
Fat Free
390.7
-5.6
156.4
0.2
Split Pots
292.5
1.7
102.4
2.6
Yoghurt Drinks
291.4
5.5
94.0
6.2
Fromage Frais
215.8
-1.4
73.5
1.1
Big Pot Plain
200.7
11.7
102.3
11.4
Luxury
148.7
-7.8
47.8
-3.3
Big Pot Flavoured
146.6
11.0
58.7
14.9
Standard
131.2
-1.7
75.8
-5.2
Active Health
83.6
-14.0
30.7
-12.5
Soya / Dairy Free
36.8
16.5
12.7
18.4
Kids Handheld
19.9
19.5
3.6
-5.6
Kids Pots
15.4
-7.8
5.7
-6.7
Cholesterol Lowering
13.0
2.6
2.9
-0.2
Total*
2594.0
1.1
903.8
2.3
*Note: total includes potted desserts
Source: Kantar Worldpanel
Health concerns
Of course, while size is important, it is not the only thing that matters to shoppers.

As health becomes an increasingly important consideration for consumers when buying yoghurts, efforts to reduce sugar are being stepped up. Onken brand owner Emmi UK has launched a five-year plan to reduce sugar, while Müller is "committed" to reducing sugar across its yoghurt range, says Bill Mathieson, Müller yoghurt & desserts commercial director.

"We have already made some fantastic progress on reducing sugar across our brands. For example, in total we have reduced added sugar per pot by 19% on Corner core products over the past 10 years, by 11% on Müllerlight core products and by 6% on Rice core products."

Yeo Valley has also been cutting out the sweet stuff, and recently launched Yeo Bio Live, a low-fat organic yoghurt with no added sugar or artificial sweeteners. "In the four months since launch, it has achieved £1m of retail sales," says marketing director Dan Rusga.

Lactose-free is also going mainstream - with soya and dairy-free value sales up 16.5%.

And Alpro, which claims its yoghurt alternatives are in 27.3% value growth, has moved to tap the protein trend with the launch of Go On, a high-protein single-serve product with a layer of fruit. "High protein is one of the big cross-category trends, and we know consumers are actively seeking protein-focused products throughout a busy day," says marketing controller Vicky Upton.

With shoppers continuing to shift away from sugar and towards healthier, more natural products, value sales of low-fat big pot yoghurt have fallen 2.9%, while full-fat big pot sales are up 14.4%.

Fat free continues to thrive

Having said this, fat free is also in growth, with value sales up 25.5% year on year. Libot notes this reflects continued demand for Greek and strained products, "which do not see increased sugar levels from lowering fat and are still perceived as natural".

One such product is Arla's Skyr - which is fat free, reduced sugar and high protein - a trend hat-trick that has led to it perform "above expectations", with a brand value of £12m, says Arla's yoghurt brand manager, Louise Hagger. "Big pot is the biggest volume contribution in Skyr and that's reflected in the overall market where we are seeing the big pot revolution continue," she adds. "We can see that in the space plain, Greek and natural is given and that's really driving the growth in the yogurt category."
Tellingly, Arla pulled its low fat and reduced sugar small pot fruit yoghurts, launched in 2015, after less than a year in market. The concept was much weaker than either Protein or Skyr, but perhaps they were also a bit, well, small.

Even in Greek, the size difference is marked. Pots under 300g are growing by a comparatively modest 8.7% against those over 300g, up by 29.3%. No wonder Müller's Mathieson says it is once again investigating bigger pack sizes (the dairy giant briefly returned to big pots in 2010 with a range of Müllerlight 450g pots), while Yorkshire Yoghurt plans to put its plain yoghurt, currently the base for its layered fruit singles, in a big pot.

Fight for shelf space

With demand for big pots and Greek continuing to surge, space for these variants is growing across the major retailers, which are working hard to ensure their branded and own-label offerings tap the latest consumer trends.

Tesco is particularly strong on natural variants in larger formats. In contrast to Sainsbury's, whose upper-tier own label yoghurt offering is restricted to flavoured single-serve, Tesco offers a 500g Finest Greek Yoghurt and 170g Finest Greek Yoghurt 2% Fat alongside a big pot High Protein Natural variant. It also offers Fage's Total 0% in a kilo tub.

Asda, meanwhile, has taken the layered route, with key lines including fruit-at-the-bottom big pots such as Apple Strudel and Mango & Lime.

The mults are right to worry about getting their offering spot on. Kantar analyst Hannah Libot notes the discounters, Waitrose and M&S are commanding most of the growth in yoghurts right now, which means own label continues to grow faster than brands, with value sales up 3% and 0.3% .

Innovation, however, continues to be a firmly brand-dominated domain. "I wouldn't say there's been groundbreaking innovation in private label," says The Collective's Harvey. "It's more where they decide to play strategically against different brands."

Marketing & advertising

Despite the mults losing out on yoghurt sales, the category appears to have escaped the savage brand culling that has plagued other fixtures. With the exception of Rachel's Organic, delisted as part of Tesco's Project Reset in 2015, there hasn't been much SKU-snipping of late, says Renton. "The yoghurt category has survived largely intact, with good growth and NPD keeping brands around."

Brands cannot afford to take their shelve space for granted, however, and are acting to keep their propositions front of mind.

Müller, for example, is continuing its association with Nicole Scherzinger, and its partnerships with Team GB and British Athletics are intended to create a "mindset link" between the brand and healthy, active lifestyles.

Arla stumped up £7m on comms for Skyr, which has been supported on TV, through a partnership with Stylist magazine, and with an experiential campaign.

Meanwhile, Emmi is reiterating Onken's strength in flavoured big pots with its Embrace Spoonfulness campaign. And with brands all keen to take more than a spoonful of the big pot market, they'll be hoping consumers continue to supersize their yoghurts.