Milk was dealt a fresh blow this summer, when an ad by a vegan campaign group claiming "Humane milk is a myth" was cleared by the ASA, despite industry complaints.
The ad, which appeared in national newspapers, came as vegan campaigners scaled up their attacks on the dairy industry this year, and they didn't just raise welfare concerns. The producers of 2014 documentary Cowspiracy released a new full-length Netflix film, What the Health, which explored claims dairy and meat-heavy diets are making people sick.
Even the mainstream media put its boot into the debate over conventional dairy, with Jimmy Doherty and Jamie Oliver promoting the merits of free-range farming and questioning the welfare of animals in housed systems during a 10-minute segment on their Jamie and Jimmy's Friday Night Feast programme on Channel 4 in January.
This all put animal welfare and health back to the forefronts of shoppers' minds - driving two major trends in dairy merchandising this year.
"Veganism is on the rise and the popularity of dairy alternatives is beginning to threaten traditional dairy sales," says Hamish Renton, MD of HRA Food & Drink. "Retailers have responded by dedicating more space to dairy alternatives and looking at higher welfare milk to hit back at claims of dairy industry cruelty."
At the same time, Brexit has inspired a fresh focus on provenance in the dairy aisles. "Shoppers want to know where their milk or cheese is from," says Renton. This has been particularly evident in own label, with retailers switching to suppliers that source only British milk, and expanding their ranges to include more cheese, yoghurt and milk with strong provenance credentials.
The results of these retailer initiatives speak for themselves. Fresh milk has reversed the value decline it was seeing previously, bouncing back into 2% growth, while value sales of dairy alternatives have surged by another 18.3% to £384.2m.
Better merchandising around dairy alternatives, in particular, has opened up opportunities for incremental sales growth in the chilled aisles, says Alpro commercial director Sue Garfitt. "The reality is that given the growth in the health and wellbeing shopper, they are not actually looking for one or the other, chances are they are looking for both," she adds.
"Most of the new penetration in the free-from category comes into fresh and shoppers are adding it to their repertoire, rather than necessarily stopping consuming dairy. So there is an incremental opportunity, which from a dairy perspective is valuable."
But supermarket initiatives around free-range milk and provenance have also brought significant additional value to the dairy category. To celebrate the best, here is our spotlight on five merchandising initiatives from the major mults that have helped change the face of dairy retailing over the past 12 months.
Excellence in dairy retailing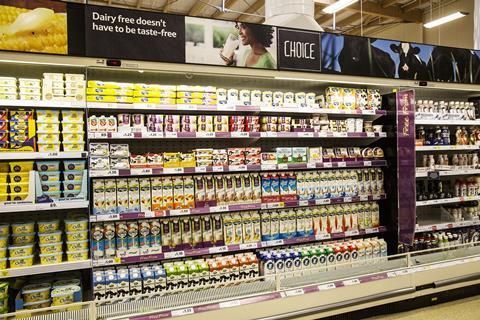 Tesco dairy alternatives fixture
At the end of 2016, Tesco joined forces with Alpro to develop a dedicated chilled free-from fixture in response to growing demand for plant-based food and drink.After a successful trial, the 'Dairy Alternatives' signposted fixture was rolled out across stores nationwide adjacent to the chilled dairy aisles.
"Tesco absolutely saw the opportunity around developing plant-based and dairy alternatives quite early on," says Alpro's Garfitt. "Most of the major grocers have got a destination for ambient free-from in store, but what no one has done before is create that in chilled.
"To simplify the shopping experience, Tesco migrated all its existing chilled dairy alternative products from other areas of the supermarket into the new fixture and expanded its range to give shoppers a broader choice across spreads, cream alternatives and milk alternatives.
"What was interesting about the Tesco approach was that they were very broad-based," says Garfitt.Alpro enjoyed a "significant" uplift in sales during the pre-launch trials of the new fixture, according to the brand, and latest figures show Tesco's total value sales of chilled dairy alternatives are up 14.8% on volumes up 116.3% [Kantar Worldpanel 52 w/e 21 May 2017]."Tesco's new fixture with Alpro continues to thrive, encouraging consumers to adopt dairy-free into their diets as they would traditional dairy," says Renton.
Russell Abbott, MD of Synergis Marketing, adds: "I think this fixture works really well and offers the customer clear signposting, making it easier to shop for dairy-free alternatives."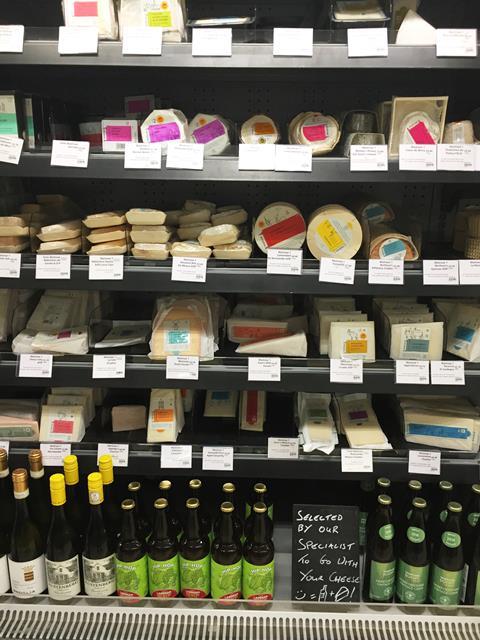 Waitrose 1 cheese range
Waitrose launched its top tier Waitrose 1 own-label brand in April 2016, combining its three existing premium own-label ranges together under one new, simple and distinctive brand. The cheese lineup comprises around 60 territorial and Continental varieties sourced from some of the best cheesemakers across the UK and Europe. Waitrose has continued to extend the range over the past 12 months, with new additions including a 16-month aged Iberico from cheesemaker Garcia Baquero, a Saint Vernier from cheesemaker Jean Perrin, and St Marcellin, made by a small dairy situated in the old abbey in Saint-Genix-sur-Guiers.
"Despite economic uncertainty, the premium trend never seems to slow, getting bigger and bigger," says Renton. "Waitrose 1 cheese pulls together two major trends, premium and provenance, in a well-executed package."
All of the Waitrose 1 cheeses feature distinctive packaging, with a continuous line drawing that highlights messages about provenance and a strength ranking to help shoppers pick out something they will like. In store, there is eyecatching signposting to direct shoppers to the range, and the cheeses are displayed alongside a small range of beers and wines selected to match.
"I like the fact that Waitrose has simplified its brands as it was getting confusing for the customer," adds Abbott. "This fixture works well and I particularly like the artisan feel and the idea of pairing drinks with cheese - spot on for the Waitrose demographic."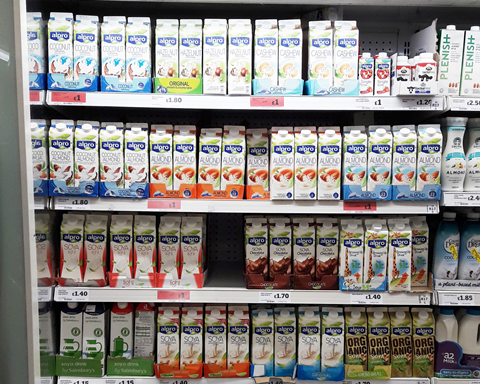 Sainsbury's free-from push
In June, Sainsbury's doubled the number of dairy alternative SKUs on its shelves and worked with Alpro to develop a new chilled bay dedicated to dairy alternative drinks. The supermarket introduced lines from the likes of Califia Farms and Plenish, as well as several new Alpro products into 300 stores to stock the new fixture. It also overhauled its yoghurts bay, giving dairy alternative yoghurts a dedicated sitting, which has worked "exceptionally well", according to Garfitt.
Sainsbury's is now the fastest growing supermarket in terms of value sales of dairy alternatives [Kantar Worldpanel 52 w/e 21 May 2017]. It deserves recognition for taking a "bold step with listing kefir" and "mixing two mega-trends together, coffee and dairy-free" by stocking Califia's alternative coffee milk, adds Renton.
Asda free-range milk
In February, Asda became the first major UK supermarket to sell free-range milk from farms whose dairy cows are grazed outdoors for at least six months of the year. The Free Range Dairy Farmers branded milk is produced by Highgrove Foods and accredited by the Pasture Promise scheme, which includes a requirement for cows to be grazed outdoors for 180 days a year.
Available in semi-skimmed and unhomogenised whole milk variants in one and two-litre bottles (rsp: 90p and £1.50 respectively), the free-range milk is merchandised in the main dairy chiller alongside Asda's core milk range. Originally available across 109 stores, it was rolled out to over 300 stores after initial sales "exceeded expectations".
"When we launched the milk in Asda we said we would monitor customer demand, with the aim of making Free Range Dairy Farmers milk more widely accessible, if that's what customers wanted," says Jenny Cannon, senior buying manager for milk at Asda. "We've now increased the amount of milk we're taking from farms in the Free Range Dairy Network by over 300%."
It was a canny move by the retailer, which has managed to position itself at the forefront of a major new movement in milk.
"This is a really interesting move by Asda to challenge the conventional wisdom that milk is the ultimate commodity category," says Abbott. "While it is bound to be niche, increasing awareness of animal welfare means it should appeal, especially to higher income groups who may not usually shop at Asda."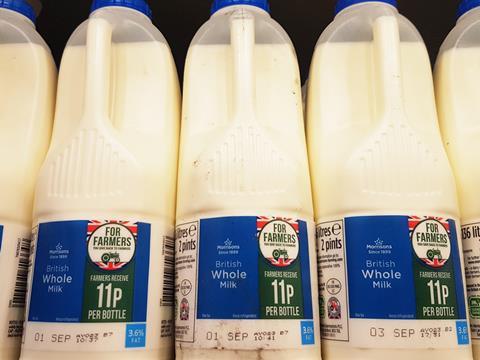 Morrisons for Farmers
Morrisons has overhauled its For Farmers range of milk, butter and cheddar,
with stricter welfare commitments and a pledge only British farmers will benefit from the premium.
The 50 farmers selected to supply the milk for the range, which is sold alongside the retailers' standard own-label lines to give shoppers more choice, will have to graze their cows outside for at least 120 days a year.
"It's a move that will cut through to many consumers, who are becoming ever more concerned with the ethics behind their food - for me this proposition hits the spot," says Renton.
"The initiative is admirable and reflects customers' growing awareness of provenance and support for farmers and in some cases a willingness to pay a premium for this," adds Abbott.