In a flat yoghurts market, products boasting health benefits are in growth. What's driving the shift, and can it be sustained?
Yoghurt is flatter than a decades-old bottle of pop right now. Market value is up a paltry 0.1% year on year to £2.65bn. Volumes have risen 0.8%, the equivalent of fewer than eight million kilos [Kantar 52 w/e 19 May 2019].
But peel back the lid on those numbers and you'll find big shifts in the category. Products defined by Kantar as 'active health yoghurts' are up 13.2% on volumes up 8.3%, after years of decline. Big pot plain and luxury yoghurts are also doing well, while fromage frais, standard and fat-free yoghurts are in decline. So what's driving all this and what's in store for the coming year?
The contrasting fortunes of these categories are linked. The growth in active health and plain yoghurts and declines in fat-free and standard lines are partly down to changes in the way consumers view what it means to eat healthily.
It's news to no one that fat is no longer seen as the demon it once was. Consumers are now more concerned with how much sugar their food contains, and are drawn to products that boast high protein or fibre content, natural credentials or the ability to boost digestive health.
Brands such as Arla Protein, Fibre and Skyr are fuelling the growth in active health. Last year, Arla's yoghurts achieved growth of 8.5% on volumes up 7.2%, making it the fastest growing major dairy yoghurt brand [Nielsen 52 w/e 12 January 2019].
"Shoppers are switching out of traditional 'diet' options into more natural products"
"Shoppers are switching out of traditional 'diet' and lower calorie options into products that are more natural but also taste good," says Holly Murray, Arla's senior category and brand manager for yoghurts. "At Arla, we stand for health, naturalness and tasty food, so our yoghurts play into these trends."
Arla isn't the only brand playing the healthy living card.
Lactalis Nestlé launched its Swedish quark brand Lindahls Kvarg into the UK in early 2018, and the high-protein, zero-fat yoghurt has "gained significant distribution and momentum" in its first full year since launch, claims marketing manager Paul Wiseman. "Consumers are looking closer at ingredients and nutritionals and seeking out products that are naturally high in protein," he adds.
Graham's the Family Dairy claims its Skyr and Protein 22 ranges are also "exceeding expectations", with rate of sale increasing "rapidly" over the past 12 months. "Protein is no longer used exclusively by bodybuilders and elite athletes," says MD Robert Graham.
"Today's consumers aim to live healthier and more active lifestyles, so high-protein options are becoming the mainstream snack of choice rather than a
niche product."
Demand for yoghurts marketed on their ability to promote better gut health is another factor driving the growth in active health products.
Activia, which has long sold itself on its 'happy tummy' credentials, has returned to value sales growth after years of stagnation. Value was up £2.8m to £142m last year [Nielsen 52 w/e 8 September 2018] following the launch of Activia's premium Nuts & Grains pots at the end of 2017, which helped push up average prices.
Volume sales dipped another 3% last year, though, prompting Danone to relaunch Activia for a third time in March 2019, with new packaging and a reformulated recipe. All mention of the dairy giant has been ditched from front of pack in favour of a 'more modern' look, with double-stacked packaging and transparent pots.
The cultured category
Danone has hinted at plans to roll out a host of NPD under the Activia brand, with a plant-based version tipped for later this year. Its first launch, however, was two live culture yoghurt smoothies blending Activia yoghurt with fruit and veg.
In August, the dairy giant also expanded its Actimel brand with new fruit and veg-based cultured yoghurt shots containing L.casei cultures as well as vitamins D and B6.
The Collective is also going big on gut health. It rolled out a lineup of kefir cultured yoghurts at the end of 2018 and claims the range is "already contributing £1.3m of the yearly growth of this new category".
Increasingly, consumers who "want to take better care of their gut health and to feel good from the inside" are starting to switch "from buying natural or Greek yoghurts into the cultured category", says The Collective's co-founder Amelia Harvey.
"The cultured category is a new area of total yoghurt, seeing strong growth of £8.2m year on year, which is driven by brands," she adds, quoting IRI figures [52 w/e 16 June 2019].
Keen to tap this lucrative sub-category, Graham's is also now "looking into developing a kefir product", confirms Robert Graham.
Even plant-based yoghurt players are benefiting from growing consumer interest in fermented foods. The Coconut Collaborative attributes its success against own label to the fact it is the first plant-based yoghurt to contain "billions" of "unique" live cultures.
"The process of adding cultures is no different from making normal yoghurt, we inoculate with cultures," says the firm's commercial director, Claire Moore.
"The difference is in the different strains of bacteria we add – we use a very specific, unique combination of bacteria which survive the low acidity of the stomach, reaching the gut. These, along with a healthy diet, can help the microflora of the gut, and this is what
differentiates us from the
standard yoghurts."
Market leader Müller Yogurt & Desserts is being left behind by this new generation of yoghurts marketed on their positive health attributes. Its total sales fell 4.3% on volumes down 4% last year [Nielsen]. In some ways, this can be seen as the flipside of the trend that's driving growth in active health.
Many now judge how healthy a product is on what it does contain (probiotics, protein, fibre, etc) rather than what it does not – see the decline in fat-free and rise in active health yoghurts for proof. Still, there's one ingredient that most are still looking to avoid: sugar.
So, late last year, Müller announced recipe changes for the Müller Light and Müller Corner brands following the development of a new yoghurt culture that requires less sweetening to make it palatable.
This allowed Müller to cut the amount of sugar in its Corner range by up to 9%, bringing sugar reduction across its portfolio to 13.5% since 2015.
It hasn't stopped there. "There's a responsibility which comes with being the eighth most chosen brand in the UK," said MD Bergen Merey in June, on announcing plans to cut the sugar content of Müller's yoghurts and desserts by a further 25% by August 2020. "The significant challenge was how to reduce sugar without compromising on taste."
The hope, clearly, is that such recipe changes will yield big gains at the tills, but these ambitions are yet to be realised. "Müller Light maintains its stronghold as the brand with the highest share of spend in the category, but it has lost a small amount of spend," says Kantar analyst William Guise.
There are indications Müller Corner's recipe change is paying off, however. Combined sales of branded split pots, of which Müller Corner is by far the biggest, are up 1.7% on volumes up 1.1% in the past year. This has returned the sub-sector to growth. A year ago, we reported a 5.1% decline on volumes down 5% for split pots.
Natural credentials
It's not just the continuing allure of protein and the backlash against sugar that's shaping the category. The rise of big pot plain yoghurts reflects the way 'natural' credentials are a growing draw for consumers who view so-called 'clean labels' as a signifier of how good a product is for you.
"Onken is tackling health related trends across yoghurt by tapping the growing trend of food products containing natural, familiar, simple ingredients that are easy to recognise, understand, and pronounce, without artificial ingredients," says Onken brand activation manager Sarah Hagarty.
The brand has just released its Naked range, which claims to contain just three ingredients: yoghurt, ripe fruit and sugar. The launch is part of Onken's first major rebrand in seven years, designed to cash in on growing demand for simple, natural products.
Others are playing the all-natural card, too. Lactalis Nestlé has brought skyr range Siggi's onto the market after its success in the US. The brand was among Nielsen's Top 25 Breakthrough Innovations in the US last year and Lactalis, which bought the company for a reported $300m in 2018, believes it will "satisfy consumer demand for natural and overall lower sugar products", says Wiseman.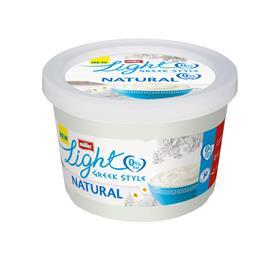 In a similar vein, Müller launched its first-ever natural yoghurts line at the beginning of 2019. Targeting a section of the market from which it had been conspicuously absent, the Müller Light natural and Greek-style natural yoghurts have sought to capitalise on the rise of plain big pot yoghurts. The range comprises a 450g big pot of Greek-style natural yoghurt, as well as singles and six-packs of plain natural yoghurt, and was backed up with ads featuring brand ambassador and heptathlete Katrina Johnson-Thompson.
"We're investing in our capabilities, our people and brands to ensure we maintain our market-leading position," said chief marketing officer Michael Inpong at the time of the launch.
"We'll grow the category by bringing Müller Light into a segment where it has been absent. Whether eaten on its own, or with fruit, nuts or granola, we think this product will appeal to everyone, especially those following various weight management programmes."
Lancashire Farm Dairies has already seen "strong growth" in its sales of big pot yoghurt as consumers "keep an eye on healthy eating and meal prep trends fronted by social media influencers and health bloggers", says MD Azhar Zouq.
"By stocking these larger pots, retailers can cross-merchandise with other products to offer their customers meal ideas, such as the ever-growing 'overnight oats' trend," he adds.
Whether it's natural credentials, added protein or live cultures, one thing is clear. "Consumers are looking for more from the yoghurt category than own label currently offers," says Harvey.
That's a big opportunity for brands. If they can keep up the pace of innovation and tap into consumers' increasingly active livestyles, they could be well on the road to putting the fizz back into yoghurt sales.
Innovations in Yoghurts 2019
The Dairymen
From lab-made milk to butter shortages, our annual definitive guide to the dairy category is full of insight and analysis on the latest trends shaping the industry. This year, The Dairymen will explore how the UK's exit from the EU will affect British dairy, and ask how the industry can make sure it is prepared to tackle the supply chain pressures it might bring, as well as making the most of potential new export markets.
Gold and Platinum members will be able to download The Dairymen from 14 September. Subscribe now. We'll be publishing insight and analysis from The Dairymen online throughout September and October.