We asked you to nominate your sustainable dairy heroes, and there were many. These are the leaders pioneering green energy, recyclable packaging, and better lives for cows – and bees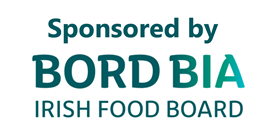 As the effects of climate change start to hit home, sustainability is a topic the dairy needs to get to grips with – and fast. That's the message throughout The Dairymen this year.
So, with that in mind – and following the success of our pandemic heroes feature last year – we invited readers this summer to nominate the champions making strides in sustainability.
We wanted to hear about the inventive work undertaken by often-unsung members of the industry, who were going the extra mile – not just by reducing greenhouse gasses but also improving animal welfare, encouraging biodiversity and tackling plastic waste.
Just like in 2020, we received an amazingly diverse response. Entries came from across the UK, Ireland and the Channel Islands, from both large companies and small farm-based businesses. All were clearly passionate about making dairy more sustainable.
There simply isn't enough room here to celebrate the achievements of all those who were nominated, but honourable mentions include Mark Roach, MD of Grosvenor Farms in Cheshire. The business supplies 25 million litres of milk a year to Tesco from a farm with "one of the lowest carbon footprints in the UK". It recycles all its manures to minimise the purchases of fertiliser, and puts aside 12% of the estate for biodiversity and wildlife schemes.
Then there was Paul Parfitt, head of farm & estates at cheesemaker Quicke's Traditional. He was hailed for his work on a number of measures to implement the supplier's regenerative farming programme and help it become a "more sustainable dairy business".
Meanwhile, Wyke Farms MD Rich Clothier received praise for "leading by example" in pushing the dairy sector "to work in more sustainable ways" over the past two decades.
Under Clothier's leadership, Wyke has become the UK's first national cheddar brand to reach the milestone of becoming 100% self-sufficient in green energy.
Wyke sources all of its electricity and gas from solar and biogas, generated from the farm and dairy waste, and also launched the UK's first carbon neutral cheddar earlier this year, in partnership with Lidl.
Congratulations to all who were nominated. Here are our five finalists who are leading the way.
Each of our dairy heroes will be discussing their sustainability efforts on The Dairymen podcast. You can now isten to the first episode here.
Nick and Richard Kenyon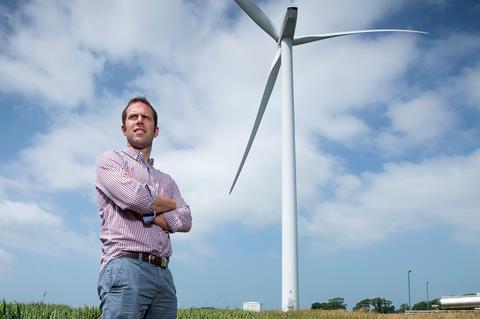 A 126-metre high, two-megawatt wind turbine makes Dewlay Cheesemakers' sustainability credentials very obvious.
Built in 2010 when third-generation owners Nick and Richard Kenyon took the reins of the Lancashire supplier from their father Neil, the idea stemmed from a "conversation over a pint" in the late 2000s.
"Given we're in a windy part of the country, my late father started a conversation [with a relative] about whether there was an opportunity to put up a wind turbine," says Nick Kenyon (pictured).
The project was met with local resistance in the planning stages but was ultimately passed.
"We were conscious of our reputation and, at one point, we were wondering, if we did pursue this process, were local people going to stop eating our cheese?" he adds.
"At the end of the day, it was a good business decision and we get complimented on the turbine on a regular basis."
More than a decade later the turbine, which can produce electricity for more than 1,100 homes, accounts for 90% of Dewlay's energy on some days. It powers through 3,000 tonnes of cheese a year – most of which is traditional Lancashire cheese.
"It's very much a symbol of a renewable future of more sustainable energy generation," says Kenyon.
The Dairymen Podcast: Nick Kenyon, Dewlay Cheesemakers
Alan and Valerie Kingston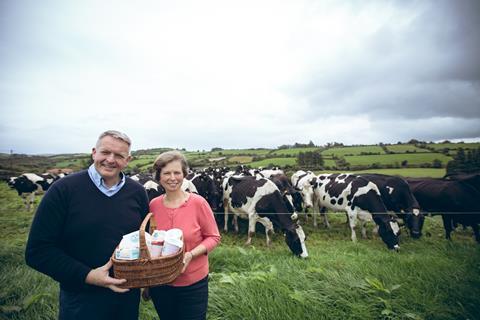 Sustainability is a buzzword for many businesses now. This is quite literally true for Alan and Valerie Kingston of Irish dairy supplier Glenilen Farm.
The County Cork business is home to 180,000 bees across three hives, which produce organic honey. Glenilen also caters for solitary bees through a wildflower garden.
The work has been spurred on through a partnership with eco-farming consultants Wild Work.
"In 2018, we invited them to advise us on our biodiversity conservation plan," says Alan. "We planted hedgerows and trees and created a wetland area to promote the local flora and fauna." As part of its efforts, the dairy planted nearly 8,000 native trees, including sessile oak, hazel, and downy birch.
Energy efficiencies are also front of mind at Glenilen. It uses solar panels, which produce 60,000 kWh and save 26 tonnes of carbon emissions each year, plus swapped all its lightbulbs to less power-hungry LEDs.
All of which cements its mission statement: "We can't change the world but we can change our small corner."
Matthew Hall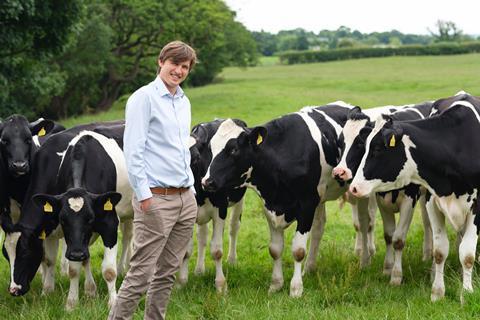 Devising a workable packaging format that can be recycled is a holy grail for food suppliers. That's exactly what Matthew Hall of Butlers Farmhouse Cheeses has achieved.
Hall is a fourth-generation owner of the Lancashire supplier famed for its Blacksticks Blue. For the past three years, he and his team have "lived and breathed" the process of developing fully recyclable packaging – something he describes as an "industry first".
"It's not just been around tinkering, removing plastic lids or switching from black to clear plastic, it's been about moving the goalposts to say this is how we should be operating," says Hall.
Working with packaging experts, Butlers developed 100% recyclable polythene made from a single polymer.
Tested by graders to ensure it offered the same performance on shelf life and quality, it can be recycled easily via kerbside collections. It's more expensive, but Hall thinks the pros outweigh the cons.
Since launching last year, the solution has been rolled out across the entire Butlers range. It's now trialling natural alternatives, including seaweed.
As the plastic packaging tax looks set to come into force next year, Hall says the work shows it's possible to reinvent cheese packaging for the better.
Liz and Jim Naftel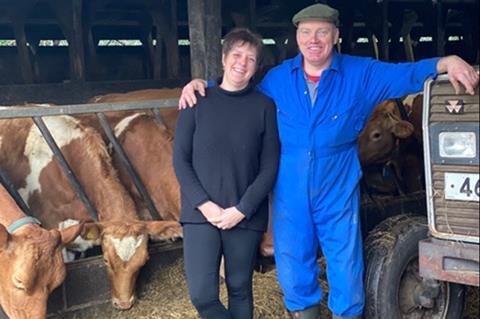 Conversations about sustainability are often dominated by the environment. But animal welfare is another key topic.
This is especially true for Jim and Liz Naftel of Les Fauconnaires Farm, which supplies Guernsey's state-run dairy with around 1,000 litres of organic milk per week. They play music from the local radio station and their own online playlists to soothe their herd of 40 pedigree Guernsey cows during milking.
"The cows seem to like it," says Liz. "It calms them as it creates a repetitive atmosphere they get used to, so they relax and let down their milk. If we're singing along and enjoying ourselves, that body language transfers over to the cows."
The couple are the third generation to run Les Fauconnaires Farm. It's the only certified organic farm on Guernsey – a status held since 2000.
"Organic was a niche market we felt we could fulfil locally," adds Naftel. "There was a farmer prior to us who was organic, but they were milking on a small scale and decided it wasn't sustainable. So, we picked up the gauntlet from them."
Andrew Booth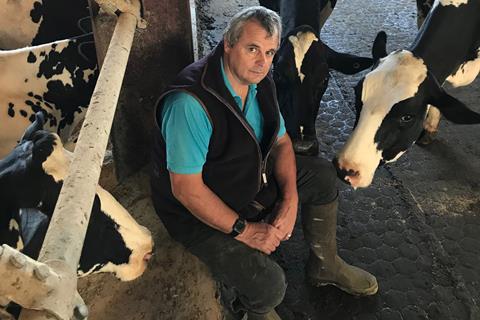 Ensuring his herd of 510 dairy cows is sufficiently fed, watered, well housed and in good health isn't enough for WD Farmers owner Andrew Booth.
The Dorset farmer, who runs his farm with his wife Vicky and sons Josh and Michael, has supplied milk to Waitrose for more than 20 years and is a passionate animal welfare advocate.
So much so that Booth, who has chaired the Waitrose Animal Welfare Development Group since 2018, is the driving force behind a new project that aims to monitor the emotional state of cows, and whether they are happy.
Booth's aim is to ensure the animals have not only a "life worth living" but importantly a "good life".
To that end, he has worked with academic Francoise Wemelsfelder from Scotland's Rural College to adopt her Qualitative Behavioural Assessments system. It tracks a series of metrics measuring an animal's behaviour.
The plan is to roll out the system across other livestock categories, in collaboration with Waitrose, before gathering evidence that will ultimately be able to measure just how content an animal is, and subsequently remedy any issues.
"It's all about looking at things from an animal's perspective, not from a human's perspective," Booth says.

This article is part of The Dairymen - our annual guide to the dairy industry that's packed with insight and analysis on all the latest trends. To read the full report, subscribe here.
Going green: meet the dairy sector's sustainability heroes
1

Currently reading

Going green: meet the dairy sector's sustainability heroes

2

3

4