Arla Foods' UK MD has seen the company through Brexit, cost-cutting and Covid – on top of a challenging liquid milk market
Times have been volatile at Arla Foods UK for a while now. When might they end? "It's difficult to see," admits MD Ash Amirahmadi, "because every time you think things are stabilising, something else comes along."
All in all, he'd be forgiven for wanting to lie down in a dark room. But it's clear he thrives on pressure. That's just as well, because drama has been a consistent feature of his 18 years at the dairyCo-op.
Since joining Arla from Unilever in 2004, Amirahmadi has risen through the ranks in a variety of commercial, farming and trading roles. Over that time, he's seen the business grow from the fifth biggest dairy company in the UK to the largest, and has had a ringside seat as a series of financial crises befell the sector, both on farms and at processors.
Then, after taking over from Tomas Pietrangeli as MD in July 2018, Amirahmadi was plunged into the uncertainty of post-Brexit trade relations with the EU, which threatened to scupper the imports to the UK of some of Arla's key brands, such as Lurpak.
At the same time, he had to contend with the company's drive to cut costs through its Project Calcium initiative, not to mention a flatlining liquid milk market and growing concerns over dairy's contribution to climate change.
Name: Ash Amirahmadi
Age: 51
Job: MD, Arla Foods UK
Hometown: Born in Tehran to an English mother and Iranian father. Moved to the UK after the Islamic revolution in 1979, aged 10. Lives in Leeds
Family: Has a 21-year-old daughter and an 18-year-old son
Potted CV: Studied mechanical engineering at Nottingham University. After 12 years at Unilever, joined Arla in 2004. Worked in commercial, farming and trading roles before becoming sales director in 2016 and MD in 2018
Out-of-work interests: Tennis, cycling, hiking and cooking
The best business advice I ever received: Surround yourself with people better than you
But all that pales in comparison with the events of the past year-and-a-half, which have created a battle just to keep milk on shelves. "We're in a very volatile, uncertain time. People talk about the VUCA world," he says, referring to the managerial acronym for volatility, uncertainty, complexity and ambiguity. "Well, we've had a real-life experiment of what that entails over this pandemic."
Amirahmadi has had to adopt "a crisis management style of leadership" as a result. "And while it has tested me, it's something I've also found extremely energising. It's not that I would want to do this for the rest of my career, but I've learned a lot about leadership in that time."
The 51-year-old's most recent challenge hit the headlines in July, when he intervened in the debate over the food sector's labour crisis to warn Arla was struggling to fulfil its milk orders.
"If dairy is making that journey towards carbon zero at pace, then I don't see any need or any call for reducing the consumption or production of dairy in the UK"
It has proven a greater challenge than the panic-buying of the first lockdown, which Arla managed by axing a quarter of its range. By contrast, no amount of range rationalisation could avert the impact of Brexit and the 'pingdemic', which created up to 100,000 HGV driver vacancies this summer.
"These driver shortages absolutely impacted the dairy industry, and particularly companies like Arla, who do a significant number of daily deliveries of milk, direct to store," he points out.
A 'structural issue'
Indeed, so bad were the shortages that Arla failed to deliver milk to 25% of its intended customers at the peak of its problems on weekends in July and August – representing about 600 stores per day.
"Clearly that has hurt us and our customers," he says. He believes more needs to be done to tackle what has become a "structural issue" for the whole food chain. In the short term, classifying driver roles as skilled would help, he suggests, and would attract EU drivers who had returned home due to the pandemic, Brexit or both. Arla has also launched a £2k bonus to attract new drivers in a bid to alleviate the problem.
In the longer term, a greater emphasis on skills training and apprenticeships will help tackle labour shortages – not just among drivers, but across the myriad vacancies in the supply chain. That's something Arla is doing "across all our sites". By encouraging skills, the business can turn vacant jobs into something more aspirational, Amirahmadi claims.
In the meantime, retail customers have worked with Arla to manage the situation through solutions, such as changing the frequency of deliveries. Some supermarkets have even collected milk directly from its DCs. "This is a great example of industry collaboration in a crisis," he says, though he admits it will remain "tricky" in the short-term. And the same issues continue to affect Arla's day-to-day operations.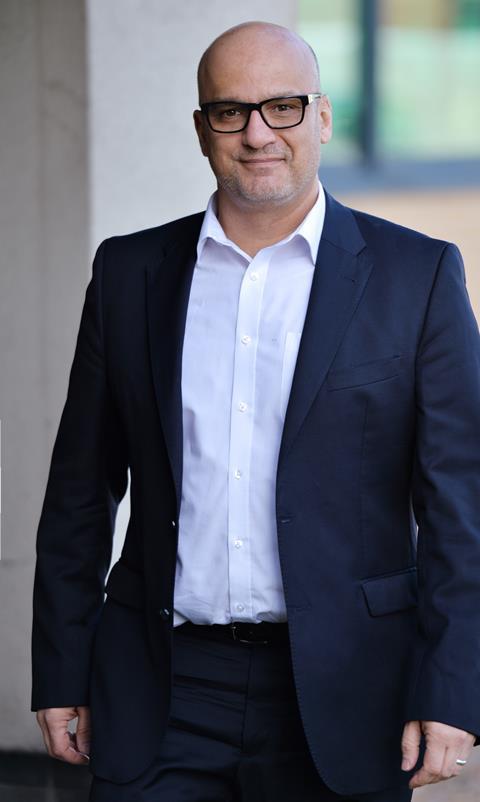 There is a positive to all this upheaval, though. Aside from the ongoing difficulties around logistics, Arla and the wider dairy industry has "come out of the crisis stronger than when we went in", Amirahmadi insists. This was reflected in Arla's UK revenues growing from £1.95bn to £2.1bn in 2020, with own label revenues up 4% and branded up 13%.
The wider dairy sector is also far more professional than in previous years, he believes. And as it faces up to the challenge of tackling climate change, Amirahmadi, who is also chair of Dairy UK, stresses Arla and the dairy sector is ready and willing. "I've been impressed by how Dairy UK, the NFU and AHDB have injected life into the Dairy Roadmap and its commitment to environmental standards," he says.
He cites the work Arla is doing on-farm via its Arla 360 programme – which financially incentivises farmers to implement a raft of climate-friendly farming techniques – as a key example of its commitment to sustainability.
However, just like the food sector's response to Brexit and the pandemic, suppliers and retailers can only do so much, he stresses.
"Farmers need to have the confidence to invest in these programmes and would benefit from a clear and unambiguous message from government that this work we're doing is a positive thing," he says.
"And if dairy is making that journey towards carbon zero at pace, then I don't see any need or any call for reducing the consumption or production of dairy in the UK.
"I would be even more assertive than that and say we will be looking for government to promote dairy rather than just seeing it just as a kind of thing it needs to manage," Amirahmadi adds.
Luckily, persuading government to do that is exactly the sort of challenge he thrives on.

This article is part of The Dairymen - our annual guide to the dairy industry that's packed with insight and analysis on all the latest trends. To read the full report, subscribe here.