Self-styled 'cheesemonger to the stars' Joe Bangles is known for quizzing celebs on their cheeses of choice. Now it's our turn to grill him on his hobby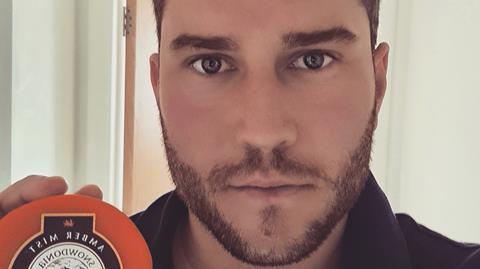 This article is part of The Dairymen - our annual guide to the dairy industry that's packed with insight and analysis on all the latest trends. To read the report, subscribe here.

If you've spent time on Twitter this year, chances are you'll have come across the question: "Do you have a favourite cheese or vegan alternative?".
That's the conundrum posed to hundreds of actors, musicians, world leaders and business chiefs by self-styled 'cheesemonger to the stars' Joe Bangles CBE (cheese board enthusiast).
In real life he's former cheesemonger Alan Pender. His mission to track the tastes of the rich and famous has garnered responses from Elton John, Elon Musk and even Vladimir Putin's office. We grilled him on his hobby.
How did it start? Cheese is a very large part of my life, and my diet. One evening during a heady cocktail of alcohol, curiosity and boredom, I created a Twitter account but didn't know what to do with it. I noticed Twitter can be quite an angry place and felt it needed a bit of levity. I added Lord Sugar as the app suggested and asked him if he had a favourite cheese. He replied within a few minutes, so I asked John Cleese. He replied quickly, so I continued.
bleu

— Mark Hamill (@HamillHimself) September 28, 2020
Who are the best-known people you've had respond? There have been A-list replies from Pink, Mark Hamill, Jimmy Fallon, Sam Neill, George Foreman, Ricky Gervais, Louis Theroux, Dawn French, Prof Brian Cox, Neil deGrasse Tyson, Don Cheadle. Hundreds of them.
What's the most unexpected cheese choice you've had? As well as Gorgonzola, Jarlsberg, Gouda, Emmental and Comte, John Cleese mentioned the Venezuelan beaver cheese (which isn't real but was from his cheese shop sketch in Monty Python's Flying Circus).
With admiration for your extraordinary tenacity in spamming my TL with this question for the last few months, I will say this. I hate cheese. Now you may stop. https://t.co/QxzSPniVuH

— Minnie Driver (@driverminnie) July 22, 2020
What do you do with your cheese responses? I launched a website – joebangles.co.uk – that lists all the replies. It allows you to search your favourite cheese and shows you all the celebrities who chose it. The site links back to the celebrities' Twitter pages, and you can also search the celebrity to find their cheese favourite. I'm looking to do a light-hearted 'what your cheese favourite says about you' section and add cheese recipes.
What's your favourite cheese or vegan alternative? Godminster Vintage Cheddar. Delicious!
Let me reward your dogged determination. My favourite cheese is Époisses de Bourgogne. https://t.co/KWEVc1ZowK

— Piers Morgan (@piersmorgan) June 27, 2020
Are you hoping to return to the cheese game? Probably not, but I will always be a very willing customer and have my ear to the ground regarding new artisanal cheeses.
Do you think you're raising the profile of cheese? I only joined Twitter a few months ago and have 10,000-plus followers purely off the back of my cheese questioning. I would like to think it's prompted others to discuss their favourites, and it wouldn't surprise me if members of the public will pick up a new cheese from the supermarket because of the choice made by a celebrity. The whole thing is a lot about my love of cheese, but it is also a welcome distraction from the horrors of the world.