After years of being battered by own label, cheddar brands have been revived. But can they sustain their return to growth?
Cheddar brands are on the comeback trail. Following a disastrous 2016/17 when sales crashed almost 10%, brands are back in the black.

It's true to say brands' value growth of 3.9% [Kantar Worldpanel 42 w/e 20 May 2018] is mostly down to inflation, with volumes up just 0.3%, but that's still a huge improvement on last year's 6.9% volume losses. And some brands put in a particularly strong performance last year, with Cathedral City (+4.5%) and Seriously (+10.8) ahead of own label (-1.3%) in terms of volume growth [IRI 52 w/e 16 September 2017].

So who is leading the way in the branded cheddar revival, what is their recipe for success, and can they maintain growth in such a competitive market?

Dairy Crest chief executive Mark Allen attributes Cathedral City's recent growth (along with Clover, the brand was recently credited with driving a 6% increase in first quarter branded sales) to its focus on doing the basics well. "We spend a lot of time and effort looking at what consumers want to buy, how they want to buy it, and trying to make sure that we can offer them that right level of innovation in product, in packaging and trial of purchase to ensure we're front of mind."
As innovation dries up who's still pushing cheese NPD?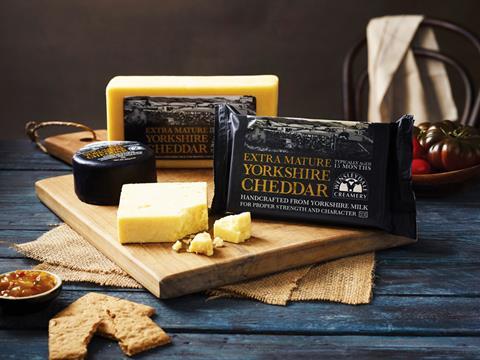 In an ultra-competitive retail market, many cheddar brands admit to concentrating on their core range rather than investing in risky NPD. There are, however, some notable exceptions to the rule.
The Wensleydale Creamery recently entered the cheddar market for the very first time with its Yorkshire Cheddar. Handcrafted from Yorkshire milk and sourced from 45 local farms, the cheddar is typically aged for up to 15 months to give it strength and character, according to the supplier. The launch is aimed at capitalising on the popularity of the 'Yorkshire' food brand, which The Wensleydale Creamery says is winning praise globally. Three months since launch, Yorkshire Cheddar has won listings in Morrisons, Tesco and Asda in stores across the north of England.
Another supplier looking to bring a new taste to cheddar is Windyridge Cheese, which has partnered with Diageo to launch the world's only official Guinness Cheddar. The Somerset-made cheese is matured to complement the "bold", "malty" and "full-bodied" taste of the stout infusion, says the company. Windyridge secured a three-year licensing deal with Guinness in 2017 to produce the cheese, which launched on St Patrick's Day in March online in 2kg deli truckles as well as 500g and 250g wax-coated SKUs and has since achieved listings and launched in the US. A smaller snacking version is due to launch later in the year.
"Shoppers are looking for convenience, added value and a format that meets the needs of different occasions," says Windyridge MD Melvin Glynn. "Enjoying Guinness Cheddar when socialising, at a sporting event, or at home makes this a shopping basket must-have."
Welsh dairy co-op South Caernarfon Creameries has also launched a booze-laced cheese after teaming up with local whisky brand Penderyn. The cavern-aged Dragon Cheddar is infused with Penderyn Madeira Finish whisky, which is aged in ex-bourbon barrels and finished in Madeira wine casks.
"We chose Madeira Finish as it has a slightly sweeter flavour which really complements the Llechwedd aged cheese. This is a luxury product, at the premium end of our range to appeal to cheese lovers who appreciate a mature, complex flavour," said MD Alan Wyn Jones as it launched this summer.
Most of Cathedral City's innovation over recent years, notably around cheese snacking, "has paid back in spades", he says. The brand recently launched The Big Slice: larger, thicker cheddar slices designed to fit a piece of bread, and plans to launch further, as yet unspecified, adult snacking innovation towards the end of the year.

Dairy Crest's other cheddar brand, Davidstow, is also growing strongly, according to marketing director Lee Willett, who points to the September launch of a three-year-old Vintage product in Sainsbury's as an example of the brand's premium ambitions. "People trade up into Davidstow when they are looking for a special occasion cheese," he notes.

Another brand holding back the tide of own label is Pilgrims Choice. Growth has been driven largely by a strong performance in both Asda and Sainsbury's, says Ornua Foods marketing director Mike Harper, who adds the decision of Pilgrims Choice and Cathedral City to promote a higher proportion of promotional ends at £2.50 rather than the £2 seen previously has also helped drive value.

Cheddar has always been deal reliant. However, volume sold on deal fell to 38.3% this year, from over 50% two years ago. Harper explains that because the base price of cheddar is typically lower now than in previous years, "loyal consumers are encouraged to pay a premium to pick up their favourite cheese on base, where previously buying at the reduced promotional price was inevitable as the discount was significant".

Allen, however, says the overall market shift away from deals doesn't reflect Cathedral City's strategy. "Promotions are an important part of our mix," he says. "Why is the category promoting less? Perhaps some of our competitors don't have quite as much cheese as they have historically."

Beyond price and promotional dynamics, Harper points to increased ad spend as key to the growth of Pilgrims Choice and other brands. "The last year has seen the majority of brands investing in above the line to drive equity. With Pilgrims Choice we have invested consistently over the past five years, and we are particularly seeing the benefit of this in the latest year with a real strengthening in our base, and rate of sale per distribution point."
Fresh marketing
The past few years has seen Pilgrims Choice adopt a more disruptive tone of voice in its marketing. Following on from its diverting 'Pilgrims Choice Chosen' campaign, in May Ornua Foods launched a new £2.5m ad campaign titled 'The cheese of your dreams', which featured epic dreamscapes, puppetry and CGI moments, based on the idea that cheese fuels technicolour dreams.
The Seriously brand has also benefited from fresh marketing investment. As part of a £1m spend in 2018, the Seriously Spreadable sub-brand was the focus of a TV campaign, which first aired in May. The 'Be a Real Cheddar Spreader' campaign was developed to raise awareness of the brand's taste credentials by reassuring consumers that it is made with Scottish cheddar and easy to spread. A second TV burst is planned for later this year.

A redesign as part of a major brand relaunch that saw its cheddar segmented into Strong and Creamy sub-ranges, has helped drive growth in the brand during the past 12 months, according to Mike Chatters, sales director for Lactalis McLelland. "Last year's relaunch has been a tremendous hit with consumers, providing broader family appeal and helping to overcome maturity confusion with two unique product recipes for the two sub-ranges."
Chatters believes Seriously's success can also be attributed to the fact it taps into growing demand for provenance. "People today want to know where their food comes from and how it is produced. We take every opportunity and use every touchpoint to tell consumers about the Seriously brand story and its quality credentials."
"People today want to know where their food comes from and how it is produced"
It won't be all plain sailing for Britain's biggest cheddar brands, despite their recent return to growth. The mults continue to rationalise their ranges, with Cathedral City losing a slew of listings in Waitrose this year following the retailer's latest revamp of its cheese aisles. But the brand, which still has good distribution elsewhere in the mults, remains confident.

Wyke Farms is having a tougher time. Although MD Rich Clothier reports some strong growth from the brand in second tier retailers such as Aldi and Lidl and in the independent trade, Wyke lost its footing entirely in both Waitrose and Sainsbury's this year. "It's been a year of one step forward and one step back", admits Clothier. "It's been tough because we've not achieved the promotional slots we had in previous years and some retailers have looked to go to two brand strategies."

Clothier believes the Wyke brand has a genuine point of difference in the market since it is "produced in Somerset by farmers in a sustainable way", and stresses he does not want it to become a mere promotional vehicle. "I want the brand to stand alone with a set of values. In some retailers that's cost us volume but that doesn't make us any less ambitious about what we can achieve in the future."

Having formed an alliance with organic milk pool Omsco, Wyke this month rolled out a new organic cheddar range into Ocado. The 280g range, which includes Mature, Extra Mature and Vintage Cheddar, will be listed with other retailers later this year and into 2019, Clothier says.
Feature continues below infographic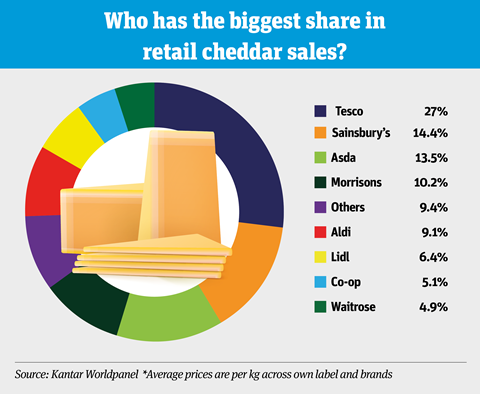 Soaring costs push cheddar prices up and deals down
Cheddar has seen stiff price inflation in the past year, with average price up 3.7% [Kantar Worldpanel 52 w/e 20 May 2018]. The rising price of milk is key, curtailing brands' ability to drive volume through promotions. Two years ago, more than half of cheddar volumes were sold on deal - share has now fallen to just 38.3%.
Sector value is up 4.3% on volumes up 0.6% at total market level (see p46), with the lion's share of that volume growth coming from Aldi and Lidl, which have seen respective gains of 15.8% and 12.3%.
"Despite the fact spend is up, volumes are down across most retailers," says Kantar analyst Michael Ndukwe. "In terms of volume, block cheddar has seen a small volume decline, down 0.3%. Grated and sliced formats have had another year of volume growth, of 4% and 7%. Sliced has seen slower growth compared with the 11.7% of the previous year, but it is still strong."
With grated and sliced respectively fetching 18p and £1.34 a kilo more than standard block cheddar on average, growing sales of these formats are helping to drive average prices up even further.
All retailers have seen average prices rise in the past year, apart from Waitrose, which has seen deflation of 5.4% as it continues to push own label at the expense of brands. Morrisons has seen the greatest prices rise, of 8.7%. Volumes have fallen by 6.7% for the retailer. That's 1.6 million fewer kilos of cheddar.
"For the majority of retailers, this is another year of decline in volume," adds Ndukwe. "In terms of volume, Waitrose and M&S were in growth in the previous year, but are now in decline. The Co-op has seen the biggest decline of all, at 15.8%."
Stiff competition
Outside of the top four cheese brands, some smaller players are enjoying distribution gains. Dromona has recently won a major contract with Lidl to supply its cheese into 8,000 stores across 22 countries, while Arla Foods reports positive growth for the Castello Tickler brand on the back of distribution gains on the core 350g range as well as Mature and Vintage offerings.

This has been achieved in the context of an ongoing retailer focus on their own label ranges, including tertiary brands - Tesco, for instance, recently revived its budget Creamfields dairy brand including five cheddar SKUs. "Own label cheese is branching out into the key growth sectors that have historically been dominated by brands," explains Rachel McColl, senior brand and category manager at Arla Foods UK "The rise in snacking and sliced cheese is well known, but a stronger focus on their own label versions from retailers has yielded double-digit growth year on year."

Cheddar's biggest players also need to be prepared to fend off competition from challenger brands offering value-added alternatives. After a successful trial launch with Musclefood.com and via its own online shop, Joseph Heler's protein cheddar brand Eatlean has launched Eatlean Spreadable into Asda. "The new spreadable protein cheese is designed for anyone who is looking for a healthier diet - whether you are focused on high protein or low fat," says director George Heler.

Even dairy alternatives are starting to move into traditional cheddar territory. Dairy-free brand Nush recently entered the cheese category with the launch of a line of vegan Spreadable Ch*ese made from almond milk in Natural and Chive variants.
Feature continues below infographic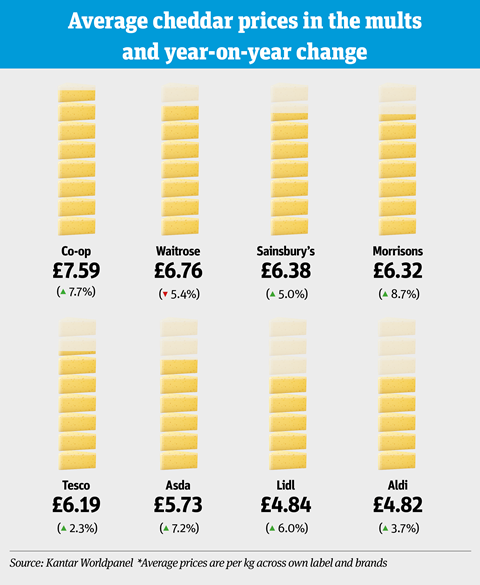 Future growth
Despite these incursions into their traditional territory, cheddar brands believe there is plenty of headroom to grow category sales. Dairy Crest sees huge potential to grow adult snacking occasions by merchandising products at the front of store, with its Cathedral City snack bars now listed in 130 Co-op stores in food-to-go chillers. "This is an area of great growth for the category as a whole," says Willett.
Of course, the price still has to be right, which could pose a bigger challenge for brands in the year ahead, warns Clothier. The long period of hot and dry weather this summer has forced some farmers to dip into winter feed supplies, raising concerns over costs. "If we go into winter with no feedstocks and end up with some sort of hard Brexit the UK market could end up with a serious supply situation coming through."

So, brands beware. The good times may be returning, but danger still lurks around every corner.
Download the PDF version of this report
---
Back to the future: why doorstep milk delivery is undergoing a resurgence
1

2

3

4

5

6

Currently reading

New lease of life: The Dairymen cheddar report 2018

7

8

9

10