Even the smallest person can change the course of the future," said Cate Blanchett's character Galadriel in Peter Jackson's Lord of the Rings. And if the yoghurt category is anything to go by, she's got a point.
While the overall category is flat, value sales of branded kids' handheld yoghurts have more than doubled year on year to £42.2m on volumes up 159% [Kantar 52 w/e 19 May 2019]. It's the same story for own-label kids handheld yoghurts, where value has doubled to £4.6m, albeit from a lower starting point.
Without this contribution from kids, the overall yoghurt category would have tipped into decline. So what's behind the boom in handheld? And are children helping bolster the future of other dairy categories?
Kids aren't eating more yoghurt overall, consumption data suggests. Occasions at home are down because of a decline at dinnertime and breakfast. There has, however, been strong growth in snacking and lunchbox occasions, up 1.2% and 8.2% respectively [Kantar 52 w/e 21 April 2019].
It's not surprising parents are turning to yoghurts as an on-the-go snacking option, says Hamish Renton, MD of food and drink consultants HRA Global, particularly given the wealth of NPD from brands and retailers in recent years. "Yoghurt has always been a very child-friendly format," he says. "It's a great carrier for flavour and innovations because it effectively provides a magnolia wall – it's a slightly sweet, benign base to which you can add anything you like."
Not only are yoghurts an easy win for parents in terms of taste, but packaging innovation means they can be mess-free too. "From a parental perspective, one of the frustrations is that more ends up on the floor than on the plate," says Renton. "The suckable, squeezable pouch formats are a way of addressing that."
"Yoghurt has always been a very child-friendly format. It's a great carrier for flavour"
Yet pouches don't always offer the best value for money, he warns. "As a value proposition, they're not very good. Parents looking at the product might think 'crikey, £1 for 100ml, that's a bit steep'."
There are benefits, however, to things in smaller packages. With the government recommending parents limit snacks to 100 calories as part of its latest anti-obesity push, yoghurt pouches are a great way for brands to deliver a permissable lunchbox snack. "Parents are looking not only for products that adhere to school health standards, but also easy ways to spot the healthy options for their kids," says The Collective's co-founder, Amelia Harvey.
The Collective's range of Suckies pouches has grown in value sales by 30% year on year [IRI Total Market MAT to 16 June 2019], which Harvey puts, in part, down to being accredited as a 100-calorie snack by the Change4Life campaign.
"Featuring the Change4Life icon across the Suckies range's packaging and digital communications has had a positive effect on sales, as it signposts the USPs of the products in an easy to recognise way, which is so important for a time-strapped parent," says Harvey.
Yoplait, which revolutionised the kids' yoghurt sector in the 90s with Frubes suckable tubes, has also partnered with Change4Life. Its Petit Filous Fromage Frais was among the first products to be accredited as a 100-calorie snack, which Yoplait Kids' brand manager, Elisa Costa, says is helping the brand tackle the trend of parents ditching kids' yoghurts for adult pots. "Health and sugar content have had a big impact, as parents can be confused around whether sugar in children's yoghurts is added or occurs naturally from fruit."
Now, Frubes has also earned the Change4Life Good Choice badge, which will appear on the Frubes TV advert and on shopper marketing materials, including barkers and dedicated gondola ends. Petits Filous has also released a 100g drinking yoghurt variant, which it claims is the first on the market to have an anti-spill, "slow-drip" sports cap. Containing 9.9g of sugar per 100g, the drinks come in at just 64kcal.
Handheld yoghurts
The unstoppable growth of kids' handheld yoghurts means new brands are entering the category, too. Arla, for example, has just announced its first major foray into the UK kids' yoghurt sector in August with its new Explorers range. Containing between 5.6g and 6.5g of sugar per 100g, the range includes Bubble, Swirl and Squeeze variants, the latter of which comes in an 80g pouch format with a childproof cap.
"We all know one of the most important things for parents is that their children get a balanced diet," says Holly Twiss, brand manager for Arla Explorers.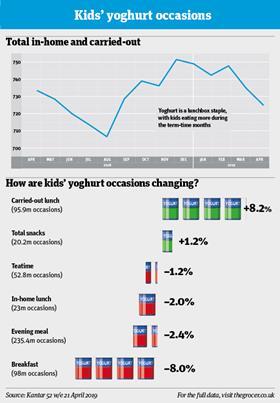 Gut health brand Biotiful Dairy has also recently announced a move into children's dairy with two handheld offerings. Its new ranges, quark Squeezy tubes and kefir Slurpy pouches, promise to contain natural ingredients with no added sugar, as well as high levels of protein and cultures, which will mean they are "one of the most nutrient-dense foods" in the sector, says founder Natasha Bowes. Furthermore, the Squeezy contains "billions of gut-friendly bacteria", something Bowes claims is a first for the kids dairy category.
"The past few years have seen limited nutritional improvement in kids' dairy," adds Bowes. "Parents are dissatisfied with the kids' yoghurts and desserts offering because of health concerns. Biotiful's NPD directly addresses parental demands for truly nutritious and tasty dairy products for kids."
It follows a similar move by The Collective. In January, it introduced its "kefir cultured" Super Yogs range of potted yoghurts, which it claims is the first children's offering to combine the health benefits of kefir yoghurt with vitamin D to help kids' immune systems.
"With a source of vitamin D, a recipe packed full of hundreds of millions of live, gut-loving cultures and containing no nasties, this new range is set to take kids' yoghurts to the next level in a handy multipack pot format," says Harvey.
Indeed, vitamin D fortification could be a big future selling point for kids' yoghurts. According to NHS data published just a week after The Collective released its new Super Yogs, hospital admissions where vitamin D deficiency was a contributing factor rocketed 34% last year to 101,136, with 332 children aged nine or younger admitted for rickets – a condition that affects bone development and is linked to a lack of vitamin D in the diet.
Cheddar's the choice
The yoghurt market is not the only sector relying on kids' luchboxes to bolster sales. Children are also eating more cheddar, with 47.5 million more occasions across the board year on year. In contrast, adult cheddar occasions are down at all times of the day, leaving value sales flat this year (–0.2%) [Kantar 52 w/e 21 April 2019].
The key occasion for children's cheddar consumption is lunch, both in and out of the home. Last year, lunch accounted for more than half of the total 652 million occasions at which cheddar was consumed by children. "Parents are increasingly switching categories such as crisps in search of convenient, tasty and heathier snacks for their kids with nutritional benefits such as high calcium levels," says Susan Nash, trade communications manager at Mondelez International, which owns the Dairylea brand.
Cathedral City, which has capitalised on this demand with the launch of three kids' snacking ranges, is one of just two of the top five cheddar brands in growth this year.
"Parents are increasingly switching in search of healthier snacks for their kids"
Other brands are also expanding their ranges of kid-focused snacks. In March, Dairylea launched a raft of NPD with a Snackers range combined with Cadbury Giant Buttons, which come in at under 100kcal per portion; and a Streetfood sub-brand for its Lunchables range that combines Dairylea with "mini pizza bases" and "tangy pizza sauce".
Kerry Foods, meanwhile, launched a new Cheeshapes line under new masterbrand Strings & Things, which also includes its Cheestrings lineup. The latter has just reached its highest penetration for five years at 15.5%, Kerry claims. All this NPD has helped drive a boom in kids' cheese snacks over the past year. Branded value sales are up 11.3% to £195.3m while volume sales have gone up 9.5% to 18.5m kg. With this in mind, Kerry is planning a £3m marketing push for during the back-to-school season, which will include TV ads, VOD, social, radio and bespoke retailer activations.
And there is plenty more room for growth, says Victoria Southern, marketing and category director at Kerry Foods. "There's a real opportunity for us as a brand to increase our position as a staple lunchbox item. Currently, only 7% of kids' lunchboxes contain a cheese snack [Kantar], and our ambition is to become the number one brand."
With so many dairy brands looking to win a place in Britain's lunchboxes, that will be no easy task. Ultimately, it will be down to the kids, and their parents.
Innovations in dairy for kids 2019
The Dairymen
From lab-made milk to butter shortages, our annual definitive guide to the dairy category is full of insight and analysis on the latest trends shaping the industry. This year, The Dairymen will explore how the UK's exit from the EU will affect British dairy, and ask how the industry can make sure it is prepared to tackle the supply chain pressures it might bring, as well as making the most of potential new export markets.
Gold and Platinum members will be able to download The Dairymen from 14 September. Subscribe now. We'll be publishing insight and analysis from The Dairymen online throughout September and October.